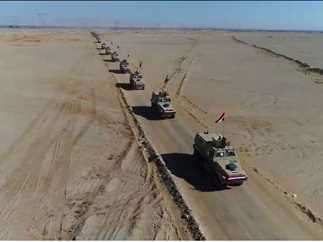 The General Command of the Armed Forces issued statement number 29 on Monday, on the latest results of Comprehensive Operation Sinai 2018, which reported the killing of 18 extremists and the arrest of 129 others.
A hotbed for extremists in the southern desert has been destroyed, including a four wheel drive. The extremists hiding there have been killed, the statement read.
Twenty-five four wheel drives carrying weapons and smuggled goods have been destroyed on the western border.
Eight terrorists have been killed in crackdowns on hotbeds in central and North Sinai. Ten highly dangerous other extremists were killed in Arish, and 129 suspects were arrested.
Three automatic rifles, two pistols and two IEDs were seized by security forces. The statement added that the bomb squads detected and dismantled 141 explosive devices planted to target the troops, the statement said.
Edited translation from Al-Masry Al-Youm.