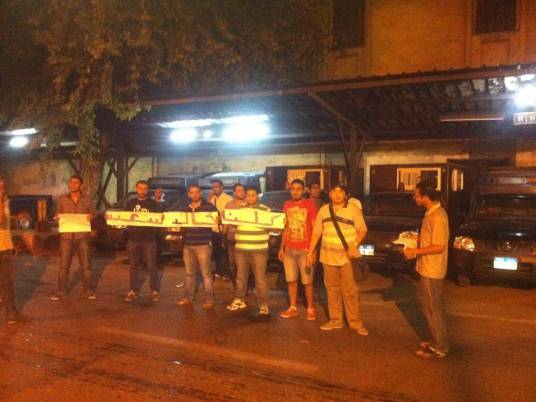 Activist groups commemorated, Thursday at dawn, the third anniversary of Khaled Saeed's death. The Dostour Party announced plans for several marches in different governorates to commemorate the incident.
Saeed was killed on June 6, 2010 after being beaten by the two policemen who arrested him at an Internet cafe in Sidi Gaber, Alexandria. He was reportedly detained after he uploaded videos on the Internet showing police officers torturing prisoners.
Saeed's killing became a symbol of police brutality and is widely believed to have triggered the January 25 revolution. The medical examiner's report on his death also sparked widespread controversy after murder and torture were ruled out. The report claimed Saeed died of asphyxiation after swallowing a bag of marijuana to hide it from police.
Thursday, at dawn, the April 6 Youth Movement-Democratic Front staged a surprising protest outside the Giza Security Directorate under the slogan "On the anniversary of Khaled Saeed's [death], we repay your dawn visits."
Police brutality, corruption and torture were some of the major issues that fueled the January 25 revolution. Mubarak's police force was notorious for torturing suspects, often to death, and committing human rights violations. They were rarely accused of premeditated murder, and the most common charge was beating which led to death, which entails lighter punishment.
The demonstrators chanted: "Interior [Ministry] are thugs," "My name is Khaled Saeed," and "We will remain revolutionaries until we reach freedom." They raised banners deprecating what they called the "Interior Ministry's continued violations against the revolution's youth."
The opposition Dostour Party is planning several protests outside security directorates in various Egyptian governorates to commemorate Saeed's death. The Dostour Party revealed in a statement on Thursday that the events will cover eleven different governorates. This will include protests outside the Cairo Security Directorate, and a march to Saeed's home in Cleopatra, Alexandria.
It added that the protests will be staged as "no retribution has been achieved for his death" since his murder three years ago.
The party's Popular Action Secretariat invited citizens to take part in silent vigils with black mourning bands and candles outside security departments to "voice objection to the lack of change towards justice and retribution against murderers of revolutionaries".
Meanwhile, members of the Popular Current, an alliance of several liberal groups, also said they would form a human chain near Saeed's home in Cleopatra, Alexandria. The group said in a statement that it will protest acquittals granted to several security officials who had been accused of murdering protesters.
Edited translation from Al-Masry Al-Youm