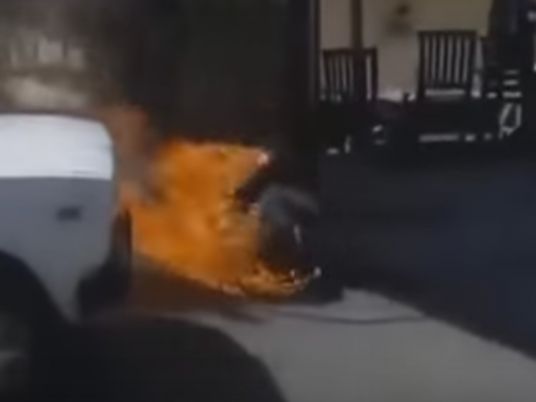 A man set himself on fire in th Sidi Gaber district of Alexandria on Saturday in an alleged protest at inflation.
Eyewitnesses said a man doused himself in gasoline outside the entrance of The Coast Club and then set fire to himself. Passersby were able to put out the flames and save the man.
Before setting himself on fire, the man made statements slamming government officials for the rising cost of living, according to eye-witnesses.
In a statement, the city's health department decribed the man as a taxi driver named Ashraf Mohamed Shahin, aged 30.
Shahin had burns over 50 percent of his body, on his abdomen, chest and the legs.
Another person named Abdel Aleem Mohamed, 32, suffered from burns on his arms while trying to save Sharin.
Both were taken to hospital for treatment by ambulance.
A video showing the man trying to set himself ablaze went viral on Facebook.
Moody's Investors Services said late in September that Egypt's inflation rates are expected to "remain elevated" in the coming fiscal year as plans to devalue the pound and reform fuel subsidies loom.
The cash-strapped Egyptian government is currently facing the consequences of years of political turmoil triggered by the 2011 uprising and a serious decline in foreign tourist revenue after two plane crashes and several terrorist incidents.
Since 2011, the country's foreign reserves have been halved and there is a serious shortage of foreign currencies to pay for imported goods.
Edited translation from Al-Masry Al-Youm