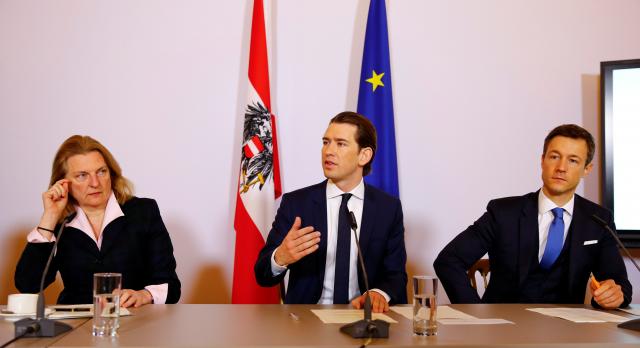 Austria plans to use its presidency of the European Union this year to shift the bloc's focus away from resettling refugees within the EU and towards preventing further waves of arrivals, Chancellor Sebastian Kurz said on Friday.
Kurz is governing in coalition with the anti-immigration Freedom Party, making Austria the only western European country to have a far-right party in government. This follows an election last year dominated by Europe's migration crisis.
Austria will take over the rotating six-month presidency of the European Union in July, giving it an important say in setting the agenda at the many meetings between member states.
The bloc has been bitterly divided over immigration and eastern member states like Poland and Hungary refuse to take in their share of refugees under a resettlement system. Kurz, an immigration hard-liner, has pledged to use his good relations particularly with Hungary to bring the two sides closer.
"Our aim is very clear – that in Europe there should not only be a dispute over redistribution (of refugees) but also at last a shift of focus towards securing external borders," Kurz told a news conference outlining Austria's priorities for the presidency, which it will take over from Bulgaria.
Hungary, Poland, Slovakia and the Czech Republic have repeatedly rebuffed requests from Brussels and western EU states to host some of the hundreds of thousands of mostly Muslim refugees that have streamed into the EU since 2015.