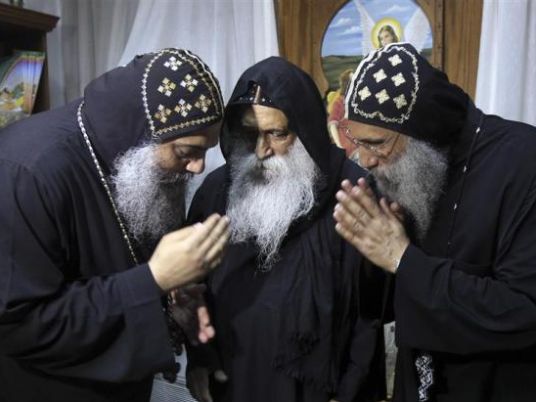 The 2011 uprising that toppled former President Hosni Mubarak had a negative impact on the Coptic Christian minority, a senior Coptic Orthodox Church bishop said on Sunday.
Bishop Paula of Damietta, who heads the Orthodox Church's public relations committee, said in a conference in Alexandria that "the 25 January revolution was a tsunami of death," adding that the popular uprising returned Copts to "negativities of the past" despite their participation in it.
The Bishop, addressing a seminar on terrorism at Bibliotheca Alexandrina, said the best period for the Copts has been what has followed the July 2013 ouster of former President Mohamed Morsy. "Copts are living under a new spirit that prevails in Egypt," he said.
Paula added that though the church was eager to maintain good ties with the government before 2011, sectarian tensions were omnipresent and the construction of churches was a complicated process that provoked several deadly tensions.
Paula added that the Muslim Brotherhood regime adopted a discriminatory constitution that denied Copts' rights, therefore increasing immigration rates by the thousands.
"Copts took part in the June 2013 [uprising] being anxious about the future," he added, noting that the current constitution ensures equality and citizenship rights for Copts both religiously and politically.
Edited translation from Al-Masry Al-Youm