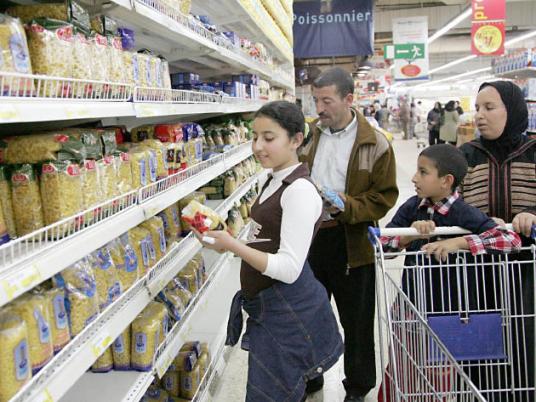 The Central Agency for Public Mobilization and Statistics (CAPMAS) announced that yhe annual inflation rate increased by 11.5 percent in October, while monthly inflation increase reached 1.2 percent.
CAPMAS blamed the increase on the price hike of fish and seafood, poultry and meat prices by 19.4 percent.
Prices of rice increased by 25.5 percent, wheat by 27.6 percent, vegetables by 17.4 percent, onion by 29.6 percent, and potato by 55.5 percent.
Bassant Fahmy, economic expert, considered the inflation increase in October as a failure on the part of the government in fulfilling its promises to reduce prices and force traders to stick to specific prices.
She also blamed price hikes on monopolies in food supplies which are not being confronted by the government.
Fahmy added that the government failed in taking advantage of its stores across the country to reduce prices. She added that they are still run by traditional mentalities without learning from supermarkets' experience, which provides offers to persuade consumers to buy and result in higher profits.
Omnia Helmy, head of the Egyptian center for economic studies, said the inflation increase goes back to price hikes, which negatively affected transportation costs and hence increased insurance on shipments as well as the final price of products.
Helmy warned against the effect of inflation on saving and bank crediting. She added that middle and upper classes might prefer to keep their savings in the form of real estate instead of banks, due to the decrease in interest rates as well as value of the Egyptian pound.
Helmy also expected higher inflation rates by January in light of the new minimum wage being implemented.
Edited translation from Al-Masry Al-Youm