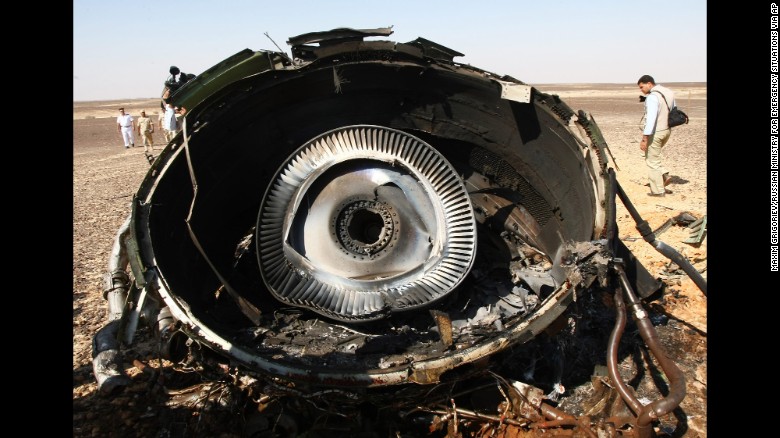 Nasser, the one-armed newspaper vendor, knows his news.
When I asked him at his curbside stall in the busy middle class neighborhood of Mohandeseen, across the Nile from Cairo, whether he was following news of the crash of Metrojet Flight 9268, he shot back with a question of his own: "Does a cook taste his own cooking?"
But Nasser was eating from the same pot popular with many Egyptians today: conspiracy stew.
"Foreigners have been plotting against Egypt for many, many years," he told me.
While investigators in the Sinai continue to comb through the wreckage of the Russian jetliner, which went down on October 31 with all 224 passengers and crew, many in Egypt's capital have already figured out who was behind the crash.
"Of course what happened to the Russian airplane was an Anglo-American intelligence operation," declared Tawfiq Okasha, a flamboyant, somewhat bombastic talk show host on Al-Faraain (The Pharaohs), a private television station. "If there were explosives on the plane," he quickly added.
Egyptian officials, and the state-run and private media, have lashed out at western officials for suggesting a bomb might have brought down the plane.
Mysterious high-tech ray
That hasn't stopped many, however, from insisting it was the US, the UK and Israel that had a hand in it.
In the busy newsroom of Cairo daily, Al-Youm Al-Sabaa, executive editor Dandarawi Al-Harawi was quick to defend an article he recently wrote claiming Washington had masterminded the plot to bring down the plane, attributing it to a mysterious high-tech ray or laser or perhaps a rocket fired from within Israeli territory. This was all part of a grand scheme, he said, to allow Israel to control a vast territory stretching from the Nile to the Euphrates.
Like many Egyptians, he couldn't understand how British intelligence officials took only days to determine a bomb caused the plane to crash, while it's taken nearly 20 years to determine how exactly Princess Diana was killed. Some of the wilder conspiracy theories point to a plot involving British security services — a claim that has been emphatically denied by UK police. And of course she was killed in the company of Dodi Al-Fayyed, the son of Mohamed Al-Fayyed, the wealthy Egyptian former owner of famous London department store, Harrods. Another conspiracy with an Egyptian angle.
The talking heads on Egyptian television have a variety of explanations as to why the US or Britain or Israel might want to harm Egypt and its tourist industry.
Talk show host Yusif Al-Husseini told his audience the goal is clear: "to damage Egyptian-Russian ties." Those doing the damage, he added, are the US, Britain and Israel.
Plot
Basma Wahbe, another media personality, did her show live from the boardwalk in Sharm el-Sheikh, wearing a shirt with emblazoned with the Egyptian flag, with patriotic music blaring in the background. Her explanation: it was part of a plot "to force Egypt to reconcile with the Muslim Brotherhood." The Brotherhood, whose candidate Mohamed Morsi became Egypt's first democratically elected head of state in this country's more than 5,000-year history, was deposed in a mass uprising in the summer of 2013, with the open backing of then defense minister and now President of Egypt, Abdul Fattah al-Sisi.
I asked veteran civil society activist and newspaper publisher Hisham Qassim why Egyptians are so quick to embrace dark, sinister plots.
"Have you ever been to Albania?" he asked. "For 60 years they were told the entire world was conspiring against them." The neat narrative, he said, "is the easy way out. Everything is fine but the evil outside forces are trying to derail this country."
In this country of profoundly prickly national pride, the suggestion that a bomb might have been smuggled on board the plane, that security at Sharm el-Sheikh airport might have gaping holes, that Egypt is struggling with mixed results to crush ISIS-affiliated jihadis in the Sinai, are suggestions too close to home, that raise too many awkward questions.
Far-fetched conspiracy theories are much more comforting.