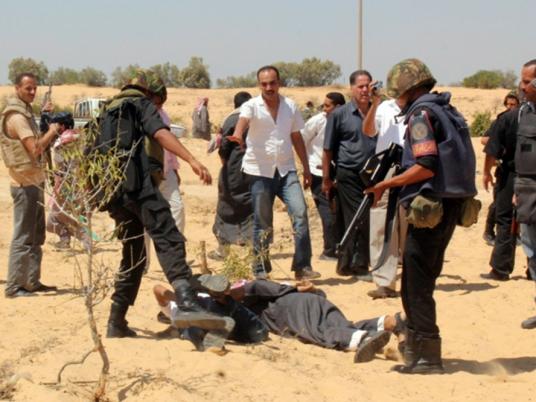 RAFAH — On a gloomy Saturday at dusk, Magdi Sayed and his wife load carpets and electrical appliances from their shop into a truck. As they move slowly, the vanquished family displays a visible bitterness, being forced into packing their whole lives into a car on a deserted street, after they and another eight Christian families in the border town received death threats from unidentified people.
At dawn, unknown gunmen had shot at Sayed's house, just hours after President Mohamed Morsy left the nearby city of Arish in North Sinai. His visit was initially aimed at soothing the worries of the Christian families. Days before, leaflets were scattered outside the homes of these families, threatening them with death if they refused to leave. Indeed, someone made good on the threats when gunmen opened fire on another family's store.
Although he intended to visit Rafah, Morsy stayed in the provincial capital of Arish for a few hours on Monday. A young member of Morsy's Freedom and Justice Party in North Sinai said the party advised Morsy not to go to Rafah, citing too many risks. Although state media and the presidency said he met with the Coptic families receiving death threats in Rafah, Sayed said he wasn't invited. "We would have been honored to be invited. But no one came to us," he says.
The exterior wall of their home reads "for sale." Just across the street from their shop, "Mahaba," Arabic for love, a building under construction lies unfinished and unattended. This is the Rafah police station, which was burnt down during the 25 January revolution and never rebuilt after threats from unknown militants.
The location on the edge of Egypt is an apt metaphor for Rafah, where the political prowess of the state ends. The spread of militant insurgency in the area in recent months has manifested itself in a series of attacks occurring at an almost rhythmical pace. Assaults on checkpoints, police stations and gas pipelines have raised alarms here, in Cairo, and abroad.
"We don't know who our enemy is," mumbles Um Makary, Sayed's wife as she stands in front of the shop.
In Sinai, the "ghost enemy," as Sayed put it, is blamed on foreign powers, denied or blamed on years of oppressive security practices by the state.
Marei Arar, a leader of the Islamist Salafi Dawah in North Sinai sees the problems as coming from outside the peninsula.
"Whoever is behind this does not want stability for Sinai, and Sinai is the compass of stability for Egypt," he says.
Arar cites the five men killed by the army in the nearby village of Shabana. They were killed in "Operation Eagle," which has raged on Sinai in the aftermath of the killing of 16 soldiers by unknown assailants in early August. The killed men were proven to be from Cairo and the Delta, according to security sources
Some suggest that groups allegedly affiliated with the Syrian regime like Jaysh al-Islam, or former Palestinian Fatah figure Mohamed Dahlan who ruled the Gaza strip before being ousted by the radical Hamas leadership in 2007, could be operating in Sinai. In both cases, the aim would be to showcase the disruptive regional prowess of one beaten leader, Dahlan and a struggling one, Syria's Bashar al-Assad, who has been trying to tame a nation-wide armed opposition against his rule for the last year and a half.
On the ground, little evidence matches these speculations. What is evident, though, is the persistence of random security practices, arbitrarily targeting suspects.
In mid-September, and also as part of the military operation waged after the killing of the soldiers, military sources flooded the media with news of the heroic arrest of 10 terrorists in the village of Muqataa in North Sinai. Most were released shortly after. One of them is none other than Mohamed Selmy, a 15-year-old farmer, who was picked up at 6 am and released later in the day, with no idea of what he was arrested for.
His neighbor, Abdallah Mohamed, a teacher at an Al-Azhar school in the village, was also rounded up in the early hours of the day. Soldiers shot him in the arm before dragging him as he bled into an armed personnel carrier. There he was handcuffed and blindfolded.
"In the security directorate, I was asked about people praying in the mosque," he says. "I told them I don't know anything. I am not even from here. I am just a teacher in the school." He was released shortly after.
For some, it is in these practices that the nucleus of today's militancy is embedded, an answer to the conspiracy argument. Hamdeen Abu Faisal, who belongs to Ahl al-Sunna wal Gama'a in North Sinai, another Dawah-oriented group, refers to a wave of bombings in South Sinai between 2004 and 2006, which prompted a series of arbitrary arrests in North Sinai.
Abu Faisal insists that militant groups in Sinai are just individuals and not part of organized structures. He calls groups claiming responsibility over recent attacks, like Ansar Bayt al-Maqdis, "people after a Jihadi show" and "sheer online organizations." He also incessantly denies the allegation that Gazan militants are exporting their anti-Israel jihad to Sinai.
In his makeshift courtroom or Sharia council, a small living room with a table in the middle filled with pens of all colors and stamps and surrounded with jurisprudence books, Abu Faisal points mockingly at an old bearded man.
"Meet Soliman al-Selmy," he says. "He was called by the media the Bin Laden of Sinai. He is 65. He was rounded up and accused of being the man behind the attack on police stations." Selmy smiles with credulity, revealing a toothless mouth.
Abu Faisal says a committee is in the process of being formed, listing a number of Islamist public figures that will engage with the militants of Sinai and explore their demands. They include Safwat Abdel Ghani, a leader in Jama'a al-Islamiya who was previously accused of killing then-Parliament Speaker Refaat Mahgoub, and Abboud al-Zomor, the leader of the Islamic Jihad who was accused of assassinating former President Anwar Sadat. He added that some members of the moderate Al-Azhar institution should also be represented in the committee.
Adel Qatamesh, the recently appointed vice-governor of North Sinai, says the media is incorrectly portraying religiously conservative groups, such as Abu Faisal's councils, as entering the security gap in the aftermath of the fall of Mubarak's regime. He sees military solutions as well-advised.
"The military operation was conducted with a high level of professionalism to avoid the mistakes of the past," says Qatamesh, a Muslim Brother. He endorses a government plan to arm tribesmen in Sinai and entrust them with law enforcement, a plan Abu Faisal deems "disastrous" and a recipe for civil war. "This won't be a random armament. Those who are armed will be part of the military, but have the incentive of local knowledge."
Despite the overabundance of solutions and proposals, security remains scarce in Sinai, something that the Sayeds have experienced firsthand.
Back in Rafah, as they empty their shop, the family reflects on a small act of persistence. They had agreed with the preacher of the village to reopen the Rafah church, which was emptied and partially destroyed throughout the last few months.
"We were getting ready to clean the church and start a service there. We haven't prayed there since the revolution," says a tearful Um Makary. Saturday's shooting made them abandon the idea.
The family today holds little confidence in the state to ensure the welfare of their homes and property. After all, it took an attack on an Egyptian border post to prompt security operations in Sinai.
"If Morsy was too scared to come to Rafah and he has thousands of men protecting him, what do we do?" says Sayed. "We won't be more precious for the state than the 16 soldiers."