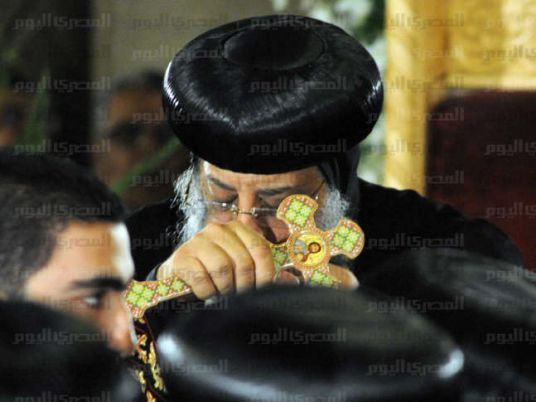 An interview by Al-Masry Al-Youm with Egypt's Coptic leader Pope Tawardros II has stirred wide reactions regarding the Orthodox Church's absolute refusal of civil marriage. As some church figures agree with the pope, some Coptic activists said that the number of personal status lawsuits were not a mere 1,000 cases as he estimated.
Bishop Rafiq Gereish, the church's spokesperson, expressed agreement with Pope Tawadros regarding refusal of civil marriage, saying that the Catholic Church was the first to draw attention of other churches toward the civil marriage.
Speaking to Al-Masry Al-Youm, Gereish said Egyptian churches would not accept such a law, whatever the consequences. He pointed to a semi agreement between the three churches on the issue.
Andrea Zaki, vice-chief of the Evangelical sect, disclosed semi-consensus within his sect over rejection of the civil marriage saying that the personal status law for non-Muslims will not be promoted to be a subject for social dialogue, but will resolved through agreement among the churches.
Farid al-Bayadi, member of the Evangelical Church's millet council, said they will declare their stance regarding civil marriage on 9 January.
"There should be a separate law for civil marriage away from the personal status draft law, as Egyptians have the right to resort to civil marriage away from the church if they want to," he added.
Meanwhile, Nader al-Seirafy, coordinator of 1938 Copts Association, mocked the pope estimating number of personal status lawsuits as no more than 1,000 cases, describing this as 'joke'. He indicated statistics that estimate the number at more than 650,000 cases.
Seirafy added that deceased Pope Shenouda III and Priest Paula said, when Supreme Administrative Court ordered the church to approve second marriage in 2008, that number of lawsuits by then was 4,000 cases, in addition to many other cases that are settled through separation without resorting to the court or church.
Naguib Gebrail, head of the Egyptian Union for Human Rights, said remarks by the pope over the church no accepting civil marriage were normal as marriage in Christianity requires church ceremonies that add religious features, which cannot be violated according to the Christian doctrine.
A well-known verdict was made by the Supreme Administrative Court ordering the church to allow second marriage, however, the Supreme Constitutional Court confronted the verdict saying that Christianity has never known the second marriage, Gebrail told Al-Masry Al-Youm.
Transitional Justice Ministry earlier made a draft law over personal status for non-Muslims, which approved civil marriage for non-Muslims, which sparked controversy by the churches. Leaked news by then showed that churches would include the right of adoption, approved in Christianity, in the law.
The church does not approve divorce unless in the case of adultery.
Edited translation from Al-Masry Al-Youm