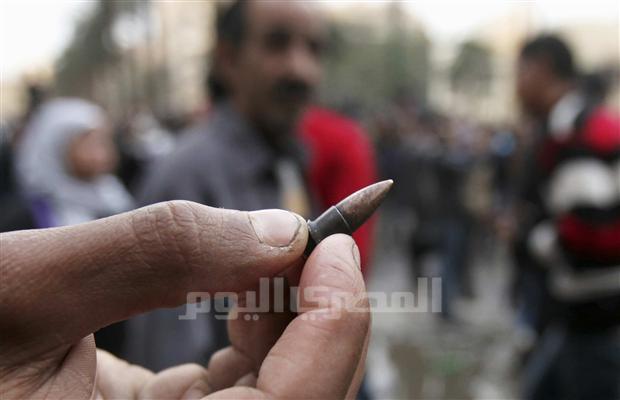 On Tuesday 28 February, the second hearing of a case filed by activist Malek Mustafa will be heard at Cairo's Court of Administrative Justice. The lawsuit aims at suspending and abolishing Interior Minister Decree 156, issued in 1964, which permits the use of firearms and live ammunition to disperse demonstrations and sit-ins.
Mustafa permanently lost vision in his right eye after being hit with a rubber bullet on 19 November during the Mohamed Mahmoud clashes between police and protestors, which resulted in 45 deaths and hundreds injured.
The case is supported by five human rights organizations, including the Egyptian Centre for Economic and Social Rights, El Nadeem Center for the Rehabilitation of Victims of Violence, the Egyptian Initiative for Personal Rights (EIPR), the Association for the Freedom of Thought and Expression and the Arab Network for Human Rights Information.
"Decree 156 was passed in 1964, during Nasser's time, and it hasn't been changed since then. It gives too much space for police officers to use force in general and firearms in particular," Karim Ennarah, who works on EIPR's security sector reform program, told Egypt Independent on the sidelines of a press conference Suntoday highlight Mustafa's case.
Egypt's police law and the ministerial decree allow police officers to use firearms, including live ammunition, birdshot and rubber bullets, to disperse a demonstration or assembly of more than five people.
"This means that if a police officer uses force against six people he can get away with it on the basis that these people are a threat to national security and public order," Ennarah said.
"Our main concern is to make the distinction between use of force and use of firearms," he added. "The use of firearms should be banned in the case of demonstrations. They should only be deployed when there is a threat to lives or serious injury either to police officers, in which case it would be self defense, or other citizens because that's the job of police officers to protect lives.
"Force can only be used in very specific circumstances, in the case of violent demonstrations…[but] in the majority of cases, if it's a peaceful demonstration, you're not supposed to use force."
"Peace Keeping in Demonstrations and Public Disorder Situations," a report published by EIPR, sets out international standards on the topic, particularly in the United Nations' Basic Principles on the Use of Force and Firearms by Law Enforcement Officials and the UN Code of Conduct for Law Enforcement Officials.
The report says that in cases when demonstrations are peaceful but unlawful, such as blocking a road, "security agencies should first negotiate with demonstrators. If negotiations fail to disperse the demonstration, security forces should then warn that they will be using force if the demonstrators don't disperse. If this does not work, they may start using the least extreme means available, such as water cannons. Only if these fail to disperse demonstrators, then security agencies may use non-lethal incapacitating weapons, such as tear gas."
It adds that, "in all cases, the use of force should be proportionate to the aim, and minimize damage and injury. For example, if a group of 20 demonstrators are holding a sit-in in a public garden, it is disproportionate to use tear gas to disperse them. The use of firearms to disperse a peaceful demonstration is illegal."
The goal of police forces should be to "clear protestors and not kill them," said Hoda Nasrallah, a lawyer at EIPR.
Maha Yousef, a lawyer at El Nadeem, has documented the pattern of dispersing protests since the revolution began on 25 January and finds that thousands have died or been injured due to excessive use of force and firearms by police officers.
Examples of this pattern includes violating the right to life and bodily integrity by subjecting female protestors to virginity tests, subjecting those arrested to beatings and torture, and attacking sit-ins and peaceful demonstrators with pellets and excessive use of tear gas, resulting in many cases of death by suffocation. Security forces have also often stood by while plain-clothed thugs attack demonstrators. And in the case of the Maspero massacre, the military ran over peaceful Coptic demonstrators with tanks and shot at them using live ammunition.
Human rights organizations defending Mustafa's case argue that this excessive use of force also violates protestors' right to freedom of expression.
In attempts to bring cases against police officers forward, one of the problems encountered by lawyers is the lack of cooperation by the Interior Ministry in providing information about which forces were deployed in certain areas during clashes and who is responsible for giving orders, Yousef said.
Another concern of human rights organizations is that the majority of police officers are equipped with firearms.
Ministerial Decree 3 for the year 2007 sets out the type of weapons used by the paramilitary Central Security Forces, which includes riot control police and special-forces.
"The weapons and ammunition they are allocated is incredibly worrying, because it's a very clear indicator that the Ministry of Interior and police deal with demonstrations like a battlefield," Ennarah said.
"They're allowed to use automatic machine guns and automatic weapons. Police forces should not deploy automatic weapons in any urban setting."