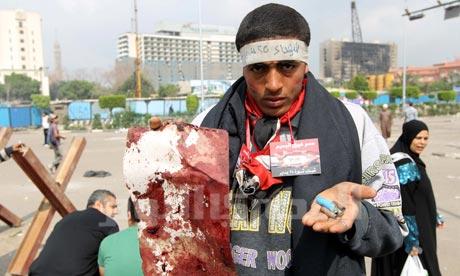 The Administrative Court on Tuesday postponed until 8 May a case calling for the repeal of an Interior Ministry decree alllowing the use of live ammunition to break up protests and sit-ins.
The case has been postponed to give the Interior Ministry time to submit pertinent documents.
Activists Fatma al-Abed and Malek Mustafa, who was shot in the eye with a rubber bullet, filed their case against the head of the Supreme Council of the Armed Forces, the prime minister and the interior minister.
The lawsuit demands that security forces only use water hoses to disperse protests.
Ahmed Harara, an activist who lost both his eyes after being shot during protests on 28 January 2011 and during the November Mohamed Mahmoud clashes, joined Abed and Mustafa in their lawsuit.
The Egyptian Center for Economic and Social Rights, El Nadeem Center for the Rehabilitation of Victims of Violence and three other human rights organizations filed the case in the name of Abed and Mustafa, saying security forces have been violating the rights of protesters since 25 January 2011.