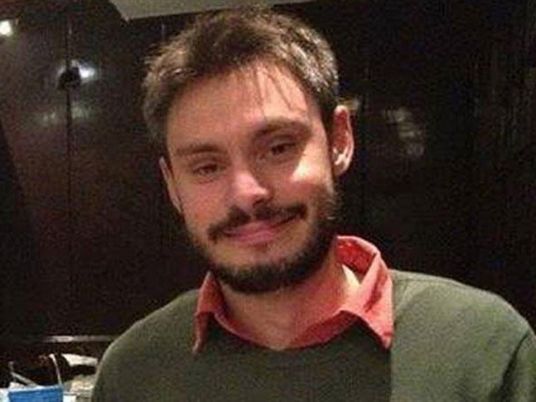 An Egyptian court has released from detention a rights activist who had worked as a legal consultant to the family of Italian student Giulio Regeni who was tortured to death in Cairo this year, defense lawyers said Sunday.
Ahmed Abdullah, head of the Egyptian Commission for Rights and Freedoms, an NGO, was arrested in April, ostensibly as part of a government crackdown on protesters campaigning against Egypt's plan to hand over two Red Sea islands to Saudi Arabia.
The court released Abdullah on bail on Saturday, according to the lawyers.
However, the charges against Abdullah, including inciting violence and attempting to overthrow the government, have not been dropped.
His release came one day after Egypt's top prosecutor, Nabil Sadek, publicly acknowledged for the first time that Regeni was investigated by police less than three weeks before he disappeared on January 25. His body, bearing marks of severe torture, was found on the side of a highway just west of Cairo on February 3.
It was not immediately clear whether Abdullah's release was linked in any way to two days of talks on Regeni's case held in Rome last week between Sadek and Italian officials. Regeni's family said in April it was distraught over Abdullah's arrest.
Sadek's revelation was the first time any Egyptian official publicly acknowledged that the 28-year-old doctoral student was a subject of interest to police, who have long been accused of abuse and torture.
Egyptian officials, including President Abdel-Fattah el-Sissi, have consistently denied any police role in the murder of Regeni. However the fact that it took the country's top prosecutor nearly eight months to acknowledge that police had a prior interest in him seems certain to fuel suspicions that Cairo has concealed essential facts of the case. The issue has roiled relations with one of Cairo's closest western allies and its largest trade partner in the EU.
El-Sissi promised in an interview with the Italian daily La Repubblica in March that investigators will work "night and day" to identify and prosecute those responsible for Regeni's torture and death. La Repubblica said that during the two-hour interview, el-Sissi never once directly responded to questions about who might have been responsible.
Sadek, in a joint statement issued at the end of his talks in Rome, also cast doubt on the Egyptian Interior Ministry's account implying that a criminal gang was responsible for Regeni's death. In March, police announced that five members of a gang had been killed and that some of Regeni's personal belongings were found at the home of the sister of the gang leader. Italian authorities and Regeni's family immediately cast doubt on that story.
The joint statement by Sadek and Italian officials said the case would continue to be investigated but added that there are "weak doubts in regards to the connection" between Regeni's death and the alleged gang members.
The statement prompted calls by social media activists in Egypt to prosecute all those involved in the death of the alleged gang members, describing their death as cold-blooded murder committed simply to create a cover story.
"What is important here now is that there should be a serious political will to hold the Interior Ministry accountable," a front-page article in the independent daily al-Maqal said. "The restructuring of the Interior Ministry has become a necessity, if not for the protection of human lives, then at least out of concern for Egypt's foreign relations."
Prominent rights activist Gamal Eid said Sadek's revelation about the police investigation of Regeni eats into the trust and confidence in Egypt's security agencies.
"They had said they did not know him; and why the five men were killed was another lie," Eid said. "Our credibility has been undermined."