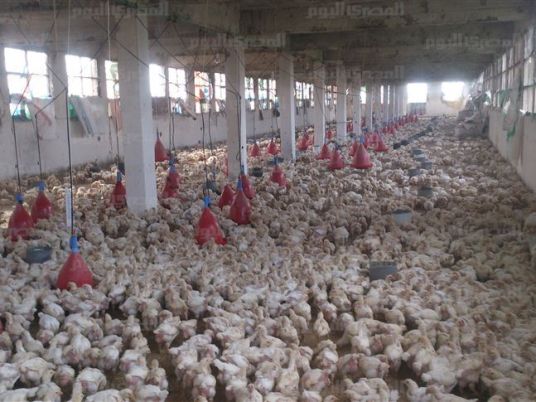 The prices of poultry, meat and rabbits have witnessed high increases across the country, that people have described as 'crazy'.
In Luxor, Ahmed Saber, a merchant, said prices of poultry jumped high during the past period of time due to the increase in prices of fodder, workforce and fuel used for heating the chicken coops. One kilo of chicken has now reached LE33.
In Alexandria, both citizens and merchants complained about the price hikes and absence of control on markets, that are now seeing a state of recession because of the price hikes.
Hassan Abdel Rehim, another merchant, said the kilo of white chicken has reached LE23, while the kilo of homegrown 'baladi' or local chicken has reached LE24, but the price for consumers is between LE25-26 per kilo. The kilo of chicken 'panee' cut has now reached between LE56-58, while chicken thighs have reached LE28.
In Kafr al-Sheikh, citizens and merchants described the poultry prices as crazy. Mostafa Zeid, a poultry merchant, said the kilo of white chicken has reached LE27, while red chicken has reached LE35 per kilo.
One kilo of rabbit has reached around LE40. He blamed the high prices on the lack of control on the markets.
In Menoufia, Farag Metwally, owner of a poultry store, said "People now want to buy the small chicken, which is no more than 1.5 kilogram. We spend on the bigger chickens daily, but we don't get profits due to the high fodder prices."
In Qena, the supply of poultry has decreased as farms, especially small ones, stopped sending stocks to the stores, due to the high prices of fodder and veterinary medicines.
Hany Abdel Sattar, another poultry merchant, said prices of live poultry have also undergone an increase, adding that the kilogram of live white chicken is being bought from farms at LE26 and sold to consumers between LE29 to LE30 per kilo. Meanwhile, one kilogram of live local chicken is sold to the public between LE26 to LE30 per kilo.
In Aswan, red chicken prices jumped up to LE30 from LE28, while the white chicken prices ranged between LE26 to LE28.
The store owners blamed the increase on the US dollar surge, as well as the soaring prices of fodder, as one ton has now reached LE7,200, up from LE2,800 last year.
Edited translation from Al-Masry Al-Youm