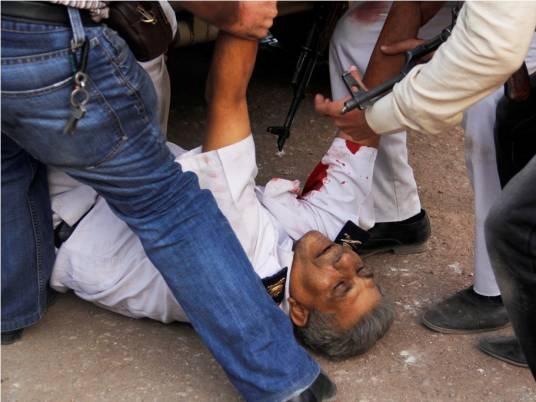 Cairo Criminal Court will resume Sunday the trial of 23 suspects over charges of killing Major General Nabil Farag in Kerdasa, forming a terrorist organization.
The court heard the testimony of three eyewitnesses, three National Security Agency officers, in the last session.
One of the officers said that his investigations and onfidential sources confirmed that the defendants Mohamed Nasr Ghazlani and Essam Diab both believe in the use of violence against the community, the police, the armed forces, and Copts. He added that the defendants formed along with others a terrorist group and planned for attacking state institutions using smuggled weapons.
The two other officers said they did not remember the details of the case due to the passage of more than six months on the occurrence of events, and that they adhered to what to the information they gave to the public prosecutor during interrogations.
The defense demanded that one of the defendants be examined by the Forensic Medical Authority to prepare a medical report on his health condition. He called for hearing the rest of the witnesses.
The security forces invaded Kerdasa in September 2013.
Edited translation from Al-Masry Al-Youm