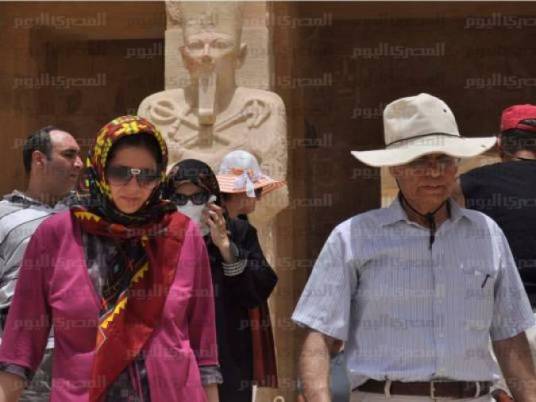 The Foreign Ministry's decision to cancel visas for individual tourists has raised controversy within the tourism industry which calls it "catastrophic."
The Foreign Ministry issued a statement on Tuesday limiting visas upon arrival to Egypt for groups traveling with national tourism companies and canceling it for individual tourists.
Individual tourists will have to obtain visas from Egyptian consulates and embassies starting 15 May.
The decision was made after a security report came out describing a number of foreign activists who arrived to Egypt without obtaining visas prior to arrival.
Opponents to the decision said tourists would head to countries like Turkey and Israel instead of Egypt.
Chairman of the foreign tourism committee of the Travel Agents Association Karim Mohsen said companies were trying to understand the decision, which was not discussed with the private sector. He added that a meeting was planned Thursday between the private sector, the Tourism Ministry and security leaders to discuss the situation.
Mohsen expects the decision to significantly affect inbound tourism.
Head of the Egyptian Federation of Tourism Chambers Elhamy al-Zayat said he did not know the reasons behind the decision, but said it would negatively affect tourism, cultural tourism in particular, because tourists or small groups that come individually and get a visa at the airport will no longer come.
Individual tourists are mostly families, friends or newlywed couples who come to spend their honeymoon in Egypt, said Zayat. He pointed out that tourists would favor Turkey and Israel following the decision.
The move comes at a time when Egypt is struggling to regain the pre-25 January revolution numbers in tourism. Political turmoil has cut off the once steady flow of tourists to Egypt, which has been a lifeline to the economy.
Edited translation from Al-Masry Al-Youm