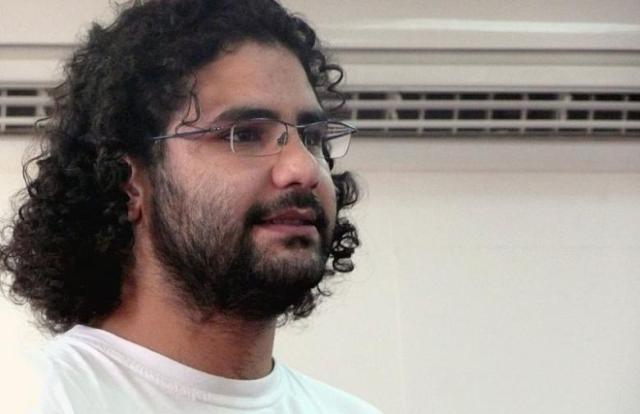 An Egyptian human rights center on Thursday filed a lawsuit to demand that detained activist and blogger Alaa Abd El Fattah be permitted to cast his vote in the ongoing parliamentary elections.
On Sunday, the State Security Court extended Abd El Fattah's imprisonment for another 15 days pending investigation. He was detained in October for alleged involvement in clashes outside the Maspero state TV building on 9 October. The violence resulted in the deaths of 28 protesters, most of whom were Copts.
He is charged with assaulting military personnel, stealing automatic weapons from the armed forces, and inciting violence against the military. In a statement on Thursday, the Egyptian Center for Economic and Social Rights (ECESR) said it filed the lawsuit before the State Council's Administrative Court.
The ECESR said the lawsuit was filed with the head of the Supreme Council of the Armed Forces Field Marshal Hussein Tantawi, Attorney General Abdel Meguid Mahmoud, High Elections Committee Chairman Abdel Moez Ibrahim, Interior Minister Mohamed Ibrahim, Justice Minister Adel Abdel Hamid Abdullah, and Head of the Prison Authority Mohamed Naguib.
In the lawsuit, the rights group demanded that Abd El Fattah, who is being detained in Tora Prison, be allowed to cast his vote in the second round of ongoing parliamentary elections, in accordance with his electoral domicile in Giza Governorate. The court has scheduled a hearing for Saturday to consider the request.
According to the lawsuit, the parliamentary elections are "one of the fruits of the 25 January revolution that Egypt's youth sacrificed their blood and freedoms for in order to achieve dignity, freedom and social justice.'
"Detention is nothing more than an investigation procedure, not a sentence," said the statement. "On a legal basis, the accused is innocent until proven guilty, and until the investigation is concluded and a sentence is issued, the detainee must be allowed access to all his/her political rights."
Translated from the Arabic Edition