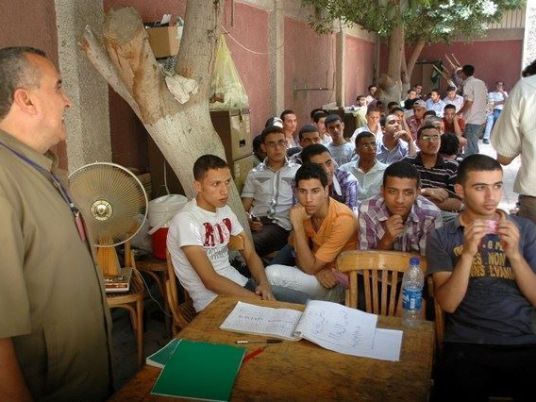 The Education Ministry has intensified preparations for Egypt's final high-school exams — known as thanaweya amma — which kick off on Saturday for the students following the old system, and on Sunday those in the new system.
About 563,000 students will take the final exams of their pre-university education over the next four weeks. The thanaweya amma exams will coincide with the month of Ramadan, the holy month of fasting for the Muslim population.
During the security void following the January 25 revolution that toppled former president Hosni Mubarak, the armed forces used to transport exams papers using armored vehicles and helicopters.
The thanaweya amma refers to the final years of high school, which students attend at the ages of 17 and 18, and is a crucial educational stage in Egypt. A student's score in the examinations can determine whether they are admitted to a free public university and what course they are able to study.
Acting Cairo Governor Ahmed Taymour said that the Cairo directorate of education was prepared for the exams and stressed the importance of ensuring that students would be comfortable, including fans, cold water and good lightning. He emphasized the cleanliness of schools, both inside and outside, as well as providing civil protection facilities and fire extinguishers.
The education directorate coordinated with the Interior Ministry to ensure that schools, control rooms and the printing house for the exams were secure, said Taymour, adding that street vendors would not be allowed in the vicinity of schools during exams.
The education directorate has also coordinated with the Health Affairs Directorate and the General Authority for Health Insurance to provide doctors and properly equipped ambulances at schools, as well as medicines for emergency and chronic cases, Taymour said.
Generators would be provided in control rooms and schools in case of power outages, although maintenance work to electricity networks would be suspended during the exams to avoid outages, he said.
The head of the Cairo Education Directorate, Fatma Khedr, said 110 guest rooms have been prepared to receive 5,000 teachers and supervisors from other governorates during the exams.
A security plan has been prepared in coordination with the Interior Ministry to secure the transfer of exam papers and model answers to schools and control rooms, she said, adding that a hotline number 24850752 has been allocated to receive complaints.
Thirty-two guest rooms have been fully prepared in Damietta for teachers and supervisors from other governorates during the exams, said head of Damietta Security Directorate Ibrahim Abdel Aziz.