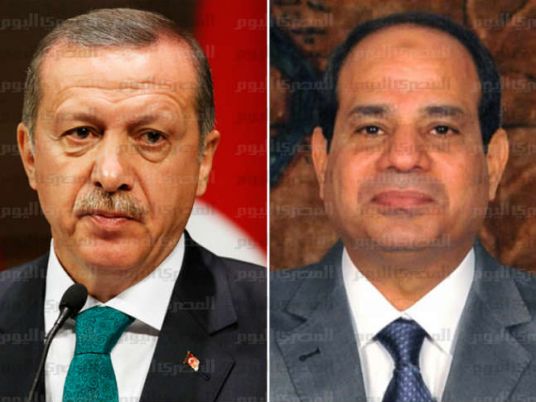 Egypt has reacted angrily to comments from Turkish President Recep Tayip Erdogan in which he slammed Egypt's "oppressive regime" for its crackdown of the Muslim Brotherhood group and harsh judicial verdicts against its members.
On Tuesday, Erdogan stated that a rapprochement with Egypt is unlikely at present due to political differences, in particular the Egyptian government's approach to the Muslim Brotherhood, which has close ties to Erdogan's AK Party.
Responding to Erdogan's statments, Foreign Ministry Spokesperson Ahmed Abu Zeid said, "Egypt has reservations on dealing with the Turkish leadership,which insists on adopting blundering regional policies," an apparent reference to Turkey's support for Islamist insurgents seeking regime change in Syria and elsewhere.
In his statement on Tuesday, the Turkish president made clear that his problem was with the Egyptian government, not with the Egyptian people.
However, Abu Zeid responded by telling Erdogan "not to forget that the Egyptian people selected its leadership in a free democratic elections."
The Foreign Ministry spokesman continued, "It's important to always highlight that respecting the will of the people is the starting point for establishing normal relations between countries, which is a fact that some do not realize."
Erdogan's statement came in the context of speculation on a possible thaw of Egypt-Turkey relations following concilliatory moves from Ankara toward both Israel and Russia.
Ankara's attempts to heal relations with regional powers is seen by many as a response to its increasing isolation and bad press in relation to the ongoing civial war in Syria, in which Turkey has been backing Islamist rebels bent on ousting Syrian President Bashar al-Assad.
Turkey has come under intense scrutiny in the past year for its alleged support of Al-Qaeda-linked insurgents in Syria as well as the Islamic State (IS) group, which is fighting an insurgency in both Syria and Iraq. Russia has accused Turkey of purchasing stolen oil from IS, providing it with cash in return, while also providing logistical support, weapons, ammuntion and safe-havens on the Turkish side of the Turkey-Syria border.
Russia has also alleged Turkish involvement in supplying chemical weapons materials that were used in attacks by Islamic insurgents and blamed on the Syrian government.
Turkey has rejected such allegations, recenly launching a media offensive aimed at giving the impression that it is also battling IS militants, claiming to be taking part in joint anti-IS operations with the United States, and even suggesting joint operations with the Russian military.
The media offensive on Turkey's part coincides with ongoing efforts to secure a visa-free travel deal with the European Union, with a long-term view to being accepted as a member of the EU. Turkey's anxiety over EU membership has been increased by Britain's recent referendum vote to leave the EU, pointing to a possible break-up of the European integration project.
Egypt has long accused Turkey of providing assistance to Islamist insurgents seeking to undermine the Egyptian state, a policy that Egypt views as consistent with its support for the Muslim Brotherhood organization.
Edited translation from Al-Masry Al-Youm