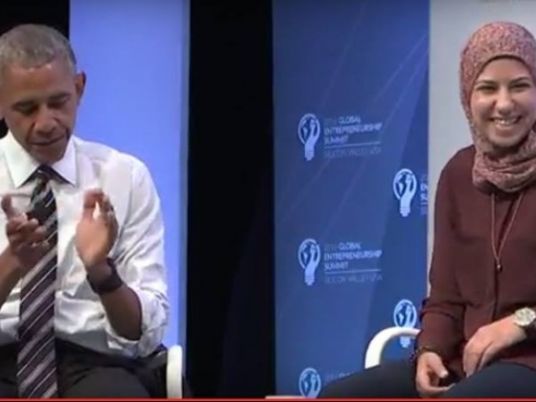 Egypt watched in awe last Friday as young Egyptian entrepreneur Mai Medhat appeared on a filmed discussion panel alongside US President Barack Obama and Facebook CEO Mark Zuckerberg, to tell the world about her engenius startup venture.
The 27-year old software engineer was taking part in the Seventh Global Entrepreneurship Summit (GES), held at Stanford University, California. Medhat joined a select discussion panel — including Zuckerberg and two other entrepreneurs from Peru and Tanzania, and moderated by President Obama — to discuss her work as CEO and co-founder of the mobile application, Eventtus.
Eventtus is an online platform and mobile app for event planning, networking and ticketing. It is a hub where users can obtain information about events, access listings of speakers, check agendas, see live announcements and interact with others connected to an event on the app.
Medhat was one of 12 Egyptian entrepreneurs invited to represent the country's startup industry at the summit.
"A while back, I heard that the event Startup Weekend was being launched in Cairo for the first time, so I went along with a friend to find out about startups, to meet mentors and entrepreneurs. It was very hard to network and meet people at the event because there was an obvious divide between the event organizers and the attendees," Medhat said at the GES.
"A week later, we attended another event and had the same experience, so we began to think about a better way for organizers to manage events in order for attendees to get the most out of the opportunity, network and share their experience. We did our research and were very passionate about the idea – we felt we could contribute something to the event space. We quit our jobs and dedicated all our time to developing the application".
Medhat said that the company now has two offices, in Cairo and Dubai, and the app now has a large usership, a steady flow of traffic and is a fully functioning networking platform. She said the app is helping people to get together by connecting them through events.
"It was not easy at all," Medhat remembered. "It was very challenging but exciting, and we had our ups and downs. When we began, we did not know where to start. There was no online information on the procedures for registering companies, no lawyer for startups to help us with the process — we had to go through everything by ourselves, which was a drain on our time, energy and money," she said.
Opening the panel discussion, President Obama said that entrepreneurship is a bridge that connects the world for a more prosperous future.
"I believe we are better off in a world in which we're trading and networking and communicating and sharing ideas, but that also means cultures are colliding, and sometimes it's disruptive and people get worried," he said.
Obama acknowledged that starting one's own business is not easy; especially for women, young people and minorities.
After the GES ended, Medhat posted on Facebook thanking people for their support; "Sitting on a panel with President Obama and Mark Zukerberg — the two most powerful men in the world — was not an easy job. It was a great honor and I'm very happy to have represented Egypt and all Arab entrepreneurs," she said."Yesterday was a big milestone, but it's just the beginning and we still have so much to do to catalyze change in the events space and deliver a better experience for all our users and for events all over the world.
Egypt independent attempted to reach Medhat but she was not available for comment.
After the 25 January revolution, Egyptian entrepreneurship became one of the booming industries of the Middle East, with particular success seen from young entrepreneurs. In recent years, several young Egyptians have topped rankings for their success in the field, with representatives of the country consistently making the top of Forbes under 30's social entrepreneurship listings.
According to Forbes Magazine, Cairo ranked as one of the world's top 10 cities in which to launch a startup in 2015. Alisee de Tonnac, the founder of emerging market startup investors, Seedstars World, told Forbes that there are young and brilliant minds in Egypt now helping to cultivate an entrepreneurial spirit in the country. This, she believes, is what transforms innovative ideas into concrete businesses.