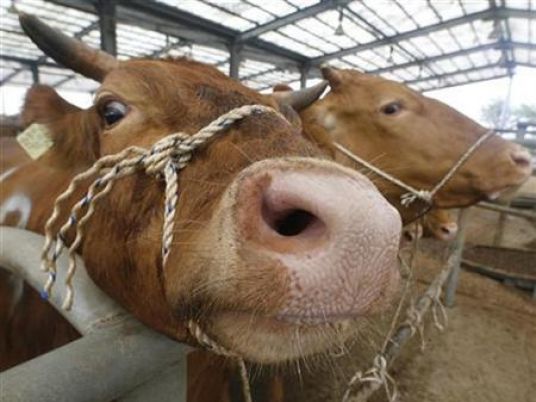 The General Authority for Veterinary Services decided on Sunday to temporarily suspend importing dairy cattle from Germany, after the World Organization for Animal Health (OIE) recently announced the emergence of mad cow disease again in a German state.
The Ministry of Agriculture, represented by the central administration of quarantine, decided to tighten screening procedures on calves and cows imported from abroad, especially from the European Union, and to take samples to make sure they are free from epidemic diseases that prevent entry into the country to protect public health and livestock.
The government also announced tightening procedures for observation and quarantine at airports and ports of Egypt as a precaution out of fear that the H5N8 disease, which emerged in South Korea and China, could arrive to Egypt as well.
Head of the General Authority for Veterinary Services Osama Selim, said that the bird flu virus includes 16 species, two of which are the only ones endemic in Egypt, H5N2 and H5N9.
He noted that under the tough measures Egypt has no fears that the H5N8 virus may reach Egypt from Korea, especially that H5N7 has already appeared in Germany and has not reached Egypt, in addition to the Corona virus in Saudi Arabia, of which no Egyptian case has been recorded.
Selim told Al-Masry Al-Youm that Egypt is following up on the development of the the mad cow disease in Germany, for fear of it reaching other European countries, despite the fact that Egypt has not imported calves from Germany for over a year. Selim added that Germany has expressed understanding at the position of the Egypt suspending the importation of calves.
Edited translation from Al-Masry Al-Youm