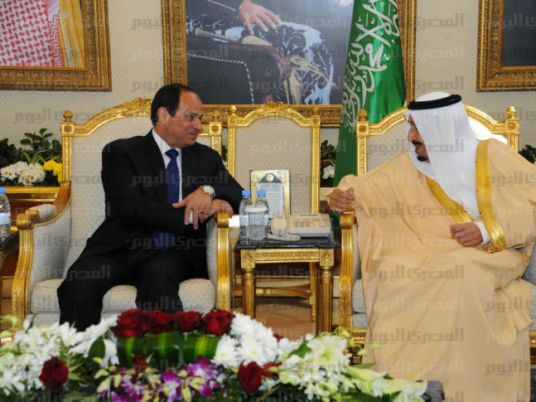 Egypt's FM Sameh Shoukry on Sunday met with Saudi counterpart Adel Al Jubeir, who is currently visiting Cairo to take part in the 144th Ordinary Session of the Arab League's Council at the foreign ministers' level.
The meeting dealt with recent regional developments, bilateral relations and issues discussed by the Arab League Council, Foreign ministry spokesman Ahmed Abu Zaid said in a statement.
The talks between the two foreign ministers touched on all areas of bilateral cooperation, and reflected the desire of both sides in strengthening them to live up to the aspirations of the peoples of Egypt and Saudi Arabia, he added.
They also minutely dealt with developments in Syria, Libya and Yemen, the spokesman said, adding that visions of the two sides on all those files were compatible.
On Syria, the two sides agreed on the centrality of "Geneva Conference 1" document to solve the crisis, in addition to the extreme gravity of the humanitarian situation in the country and the need for an urgent action by the international community to resolve the problem of Syrian refugees.
On Libya, the two ministers agreed that a final political agreement should be signed before Sept. 20, urging all Libyan parties to spare no effort in this regard to put an end to the Libyan conflict, form a national reconciliation government and meet the aspirations of the Libyan people.
Forming a national reconciliation government is necessary to gather the Libyan people, launch the development process, restore security and stability and fight terrorist that threatens the country and the whole region, the spokesman added.
The spokesman said that Shoukry and Jubeir discussed in detail developments in military operations in Yemen and successes achieved on the ground, in addition to political efforts of the United Nations envoy to reach a political settlement for the crisis there.
The ministers agreed that any solution to the Yemeni crisis must be built on the basis of the implementation of Security Council resolution 2216, he added.