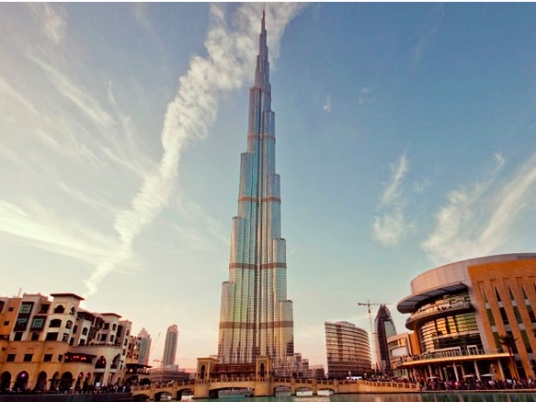 Dubai Land Department (DLD) of UAE said Saturday that Egyptians came first in a list of Arab investors from outside the Gulf Cooperation Council (GCC) states who bought housing units in Dubai during the past year 2016.
In 2016, 1,364 Egyptian investors spent LE13 billion (around US$650 million) on real estate in Dubai, comparing to LE14 billion (around US$700 million) in 2015.
The report on real estate transactions in Dubai for the year 2016 said that total transactions in the city amounted to AED 259 billion (US$70.6 billion).
DLD's annual report also reveals that the Emirate recorded a total of 60,595 real estate transactions in 2016, exceeding AED 259 billion in value. Over 41,776 sales transactions took place, representing a total value of AED 103 billion, while the 15,000 mortgage transactions were equivalent to a value of AED 128 billion.
In 2016, land sales and mortgage transactions represented a total value of AED193 billion across 15,994 transactions. This breaks down to mortgages bringing in over AED114 billion via 5,145 transactions, while sales secured over AED55 billion from 9,892 transactions.
In terms of value, commercial land (already built on) claimed the lion's share, representing 30 percent of the total value secured by transactions in 2016.
As has been the case in previous years, the leading investors were UAE nationals from across the GCC, Arabs, and foreigners, for their investment of nearly AED22 billion from over 7,000 investors.
In 2016, citizens of the Gulf Cooperation Council (GCC) states contributed AED35 billion from 12,768 investors of six nationalities, while 3,294 Saudi Arabian investors made transactions worth AED8 billion.
Investors from Qatar and Kuwait approached AED2 billion mark, from 1,006 and 770 investors respectively, followed by nationals from Oman (301 investors) and Bahrain (244 investors), who contributed up to AED1 billion.
Arab investors from outside the GCC contributed over AED12 billion to the real estate market last year, from 6,416 investors of 16 nationalities. DLD's report reveals that among these, Egypt ranked highest in number of investors, with 1,364 investors making transactions worth over AED2.4 billion.
Other leaders in numbers of investors were Algeria, Iraq, Lebanon, Palestine, Sudan, Yemen, and other Arab countries, while citizens of Jordan ranked highest in terms of value, investing a total of AED 2.5 billion across 1,331 investors.