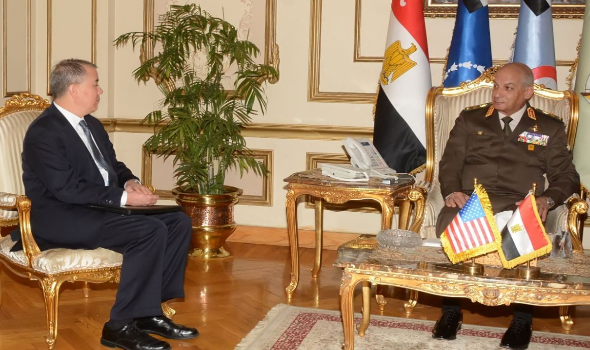 Egypt's Minister of Defense and Military Production Mohammed Zaki held a meeting with US Under Secretary of Defense for Policy John Rood on Sunday, during which the two discussed issues relates to Egyptian-US military cooperation, as well as critical developments in the Middle East and joint efforts to combat terrorism.
Zaki said that military and security cooperation between the two countries is based on common interests in the region, adding that the US and Egypt are working toward strengthening security cooperation across various fields and bolstering ties between the two countries' armed forces.
For his part, Rood indicated that the United States is keen on continuing military coordination between Egypt and the US.
Zaki previously travelled to Washington DC in July upon an invitation from US Secretary of Defense Mark Esper, during which he held talks with his American counterpart on issues related to cooperation between the two countries' armed forces.
Egypt is the second largest recipient of foreign military financing, which provides grants and loans allowing American allies to purchase defense equipment, and the US State Department sought US$1.3 billion in foreign military financing for Egypt in its 2019 budget request.
US aid to Egypt and strategic partnerships between the two countries have long played a central role in the country's economic development and military might, as well as in regional stability. Since 1980, the United States has provided Egypt with what now totals more than US$40 billion in military aid and $30 billion in economic assistance.
The meeting between Zaki and Rood comes after US Assistant Secretary of State for Political-Military Affairs R. Clarke Cooper told reporters at the Dubai Airshow on November 20 that Egypt was at risk of possible US sanctions and a block on future military sales if the country continued with its purchase of more than 20 Su-35 fighter jets valued at US$2 billion from Russia, an agreement which was signed earlier this year, according to Reuters.
Edited translation from Al-Masry Al-Youm