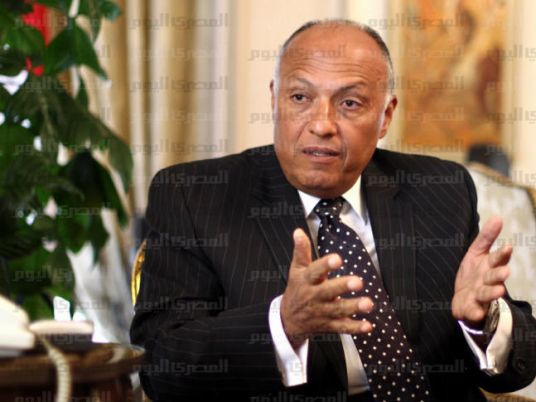 Foreign Minister Sameh Shoukry announced Monday that Egypt will take part in the Bahrain conference this week to discuss the development of the Palestinian economy, assessing the proposed US$50 billion "Peace for Prosperity" plan.
"It is important that Egypt participates to listen to this proposal and evaluate it, but not in terms of acknowledging it," Shoukry said in a television interview with the Russian RT channel.
"We have the right to evaluate and see and develop a vision about it, but the final decision is due to the concerns and the interests of the Palestinian National Authority, as the legitimate representative of the Palestinian people," he stressed.
"There is no concession of a grain of sand from the lands of Sinai, for which many honorable Egyptian citizens were martyred in their defense and in order to restore them. Nothing can diminish Egyptian sovereignty over Sinai," Shoukry said.
He noted that this Bahrain forum comes within the framework of an offer by the United States towards ongoing efforts to reach a final economic solution to the Palestinian-Israeli conflict, expected to be followed by a political component.
"The solution [to the conflict] must be based on a political component linked to the decisions of international legitimacy and the Arab initiative for the two states solution, but the American side prefers to put the economic component first," Shoukry added.
"The Palestinian Authority has the right to evaluate this aspect and the extent of its realization to the Palestinian interest and the extent of its acceptance or rejection. This is a decision of the Palestinian Authority, and no other party has the right to deal with it," he said.
Edited translation from Al-Masry Al-Youm