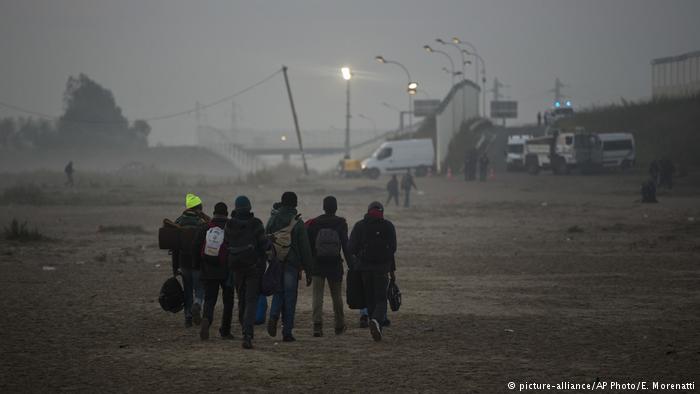 At least four people have been shot after a fight involving more than 100 Eritreans and Afghans erupted in Calais. The French interior minister has announced a visit to the port city to "take stock of the situation."
A massive, two-hour brawl involving more than 100 Eritrean and Afghan nationals in Calais on Thursday left four teenage migrants in critical condition after being shot. They had been standing in line waiting for food handouts.
Tensions have been high in the French port city since 2016 when authorities demolished a makeshift encampment known as the "Jungle," which hosted thousands of migrants attempting to make their way to the United Kingdom across the English Channel.
What we know
Four people were shot during the fight, all of them Eritrean migrants between the ages of 16 and 18.
It was not initially clear who fired the shots that injured the four migrants.
The fight was between Afghan and Eritrean migrants. Authorities said police intervened to "protect the Afghan migrants faced with 150 to 200 Eritrean migrants."
Humanitarian groups working in the area believe roughly 800 migrants remained in the area after the "Jungle" was demolished.
The migrants have camped in Calais in hopes of making their to the UK by stowing rides on lorries passing through the port city.
Second fight at industrial site
The Calais prosecutor's office said at least 12 more people were injured after suffering "blows from iron bars" after a second fight broke out at a nearby industrial site. Another person was injured in a road accident.
The fights drew the attention of the French government, with Interior Minister Gerard Collombannouncing a surprise visit to "take stock of the situation."
Last month, French President Emmanuel Macron said, during a speech in which he announced a new border security deal with the UK, "in no case will we allow another 'Jungle' here."
What was the "Jungle": Before the 2016 demolition, the "Jungle" was a sprawling, informal camp that hosted thousands of migrants from Africa and Asia. The migrants were attempting to reach the UK, often by stowing away on lorries.
Why are migrants attempting to reach the UK from France: There are several reasons given by migrants for their attempts to reach British soil, but many of them hope to reunite with their communities in the UK.
What happens next: Macron has vowed to never allow another "Jungle" to re-emerge in Calais or elsewhere in France. Under the new security border deal with the UK, London will pay France to increase security at Calais.