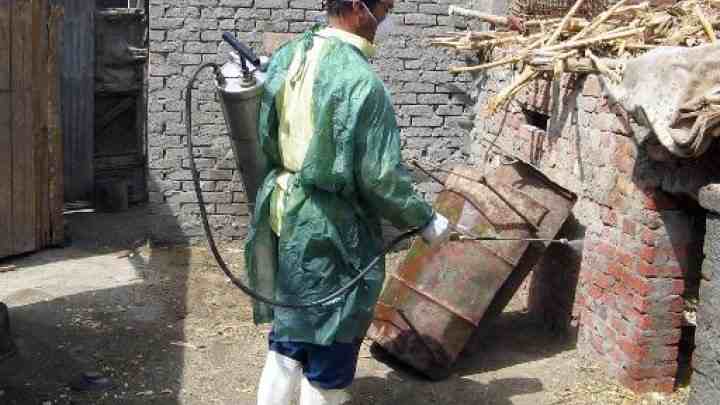 A 48-year-old Egyptian man has died from the H5N1 strain of bird flu, the Health Ministry said on Saturday, the first victim of the virus this year.
The head of Fayoum Heath Directorate Hisham al-Shennawy said Saturday that the victim died while receiving treatment at Abbassia Hospital for Fevers in Cairo.
He added that the victim is a laborer from Tawfikia village near Sinnuris city. He had been earlier admitted to the city's general hospital suffering from a high fever and flu symptoms.
The man was transferred to Fayoum Chest Diseases Hospital where medical samples were collected and sent to the central labs of the Health Ministry. Results showed that he was infected with bird flu, upon which he was transferred to Abbassia Hospital for Fevers where he died.
Samples from relatives and close family members of the deceased laborer are being examined to find out if any of them have been infected, Shennawy said in a statement.
The Directorate of Veterinary Medicine in the governorate found that the man was working in a duck farm with some birds that were infected. The infected birds have been killed, while health ones have been vaccined.
The highly pathogenic form of H5N1 bird flu first infected humans in 1997 in Hong Kong. It has since spread from Asia to Europe and Africa and has become entrenched in the poultry populations in some countries, causing millions of poultry infections and several hundred human deaths.
There have been 356 human cases of avian influenza A(H5N1) reported in Egypt between March 9, 2006 and September 30, 2016. Of those, 121 were fatal, resulting in a case–fatality rate of 34 percent, the World Health Organization (WHO) said last year.
A total of 10 cases were reported during the period from January 1, 2016 to September 30, 2016, leading to 4 deaths and giving a case–fatality rate of 40 percent for that period.
Edited translation from Al-Masry Al-Youm