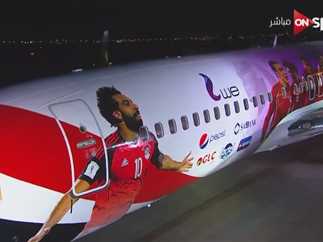 Mazen Marzouk, former head of the competition committee of the Egyptian Football Association, commented on Mohamed Salah's crisis with the Association related to sponsors.
There has been news recently about a major crisis between Salah and the Association because of the image that was placed on the airplane which will transfer the national team to the World Cup in Russia, where Salah appears at the front of the plane, while the rest of the players are in the background.
The logo of the sponsor company of the national team, which is a rival to the sponsor of Salah, appears in the middle between Salah's image and the rest of the players.
"We are facing a serious problem with the football federation," Rami Abbas, Salah's business manager, said through his Twitter account.
Salah re-published the tweet, confirming the magnitude of the crisis.
The sponsor of the team has the right to use the collective image of the players of the national team, but not the personal picture of a single player. Only collective pictures of the team can be used by the team sponsor, Marzouk commented.
Marzouk said Salah's image was placed alone on the front of the plane and the rest of players at the back, which is not permissible.
Edited translation from Al-Masry Al-Youm