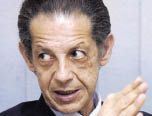 Essam Shiha, a member of the reformist current within the Wafd Party, said that new headquarters, called "The Original Wafd Party" would be opened before Ramadan for the dismissed members, especially Fouad Badrawi, the former secretary general.
He said the new premises would be close to the current address in Dokki, adding that a press conference would be held during the opening.
"Choosing a near location symbolizes our opposition to the current leadership of the party," he said, explaining that the front is not forming a new party, but is moving to a new location.
"Our negotiations with the party president, al-Sayed al-Badawi, have reached a deadlock," he said. "We will escalate our opposition until he leaves."
Ahmed Ouda, the honorary president of the party, said the new location is worthless. "If they try to destroy the historical image of the party, we will take legal steps against them," he said.
Edited translation from Al-Masry Al-Youm