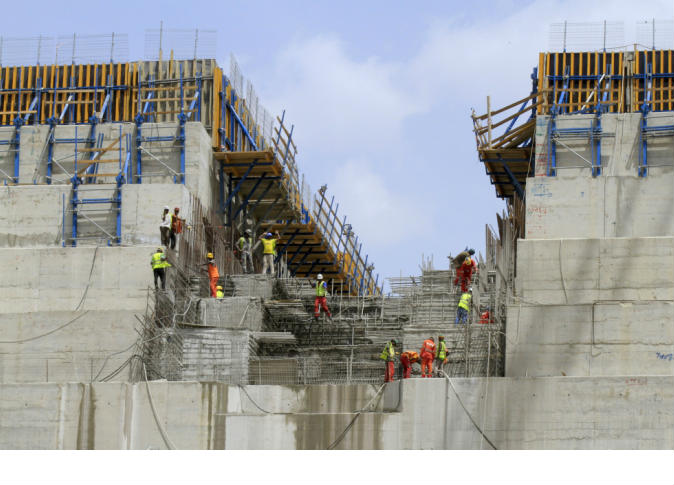 Ethiopian Prime Minister Abiy Ahmed arrived in Cairo for a high-level delegation regarding the Grand Ethiopian Renaissance Dam (GERD)  after ending his official visit to Kampala, where he met Ugandan President Yoweri Museveni.
The spokesman for the Egyptian Presidency, Bassam Rady, said that the Ethiopian Prime Minister arrived in Egypt on Saturday for a two-day official visit during which he will hold talks in several fields with President Abdel Fattah al-Sisi.
Ethiopia's ambassador to Egypt, Taye Atske-Selassie Amde said that the bilateral talks between the two leaders will tackle pressing regional and international issues of common concern, as well as future cooperation between the two countries in all fields.
In statements to Al-Masry Al-Youm, Amde said that the GERD will top the talks between Sisi and Ahmed.
Amde said that Ethiopia's PM visit to Egypt is of great importance to the bilateral ties between the two countries, especially as this is the first meeting between Sisi and Ahmed since the latter took office.
Minister of Water, Irrigation and Electricity in Ethiopia, Seleshi Bekele also arrived in Cairo early Saturday heading a delegation from Ethiopia's capital city Addis Ababa to discuss developments in the GERD, as well as to boost cooperation between the two countries in the fields of water and energy.
The latest visit to Egypt by the Ethiopian PM was in January, from former PM Hailemariam Desalegn, during which he asserted that his country will not put Egyptians at risk, as disagreement between Egypt, Ethiopia, and Sudan continues over the countries shares of Nile waters after Ethiopia completes construction of the GERD.
Ahmed took over Ethiopia's PM post following Desalegn, who resigned in February after Ethiopia experienced a period of tensions and protests over the past two years.
In 2011, Ethiopia started construction on the GERD over the Blue Nile River, one of the major sources of the water that forms the River Nile downstream. Ethiopians see it as is a great national project and a means of overcoming poverty. Egypt, however, fears the dam will affect its historic Nile water which it has had access to since the historic 1959 agreement with Sudan.
Egypt's share of Nile water sits at 55.5 billion cubic meters, while Sudan's quota is 18.5 billion cubic meters. This is in accordance with an agreement signed between the two downstream countries in 1959; Ethiopia is not part of this agreement.
Ethiopia has reassured Cairo that its water share will not be affected.
The dam is expected to reduce Egypt's share of Nile waters, further limiting the country's already scarce water resources.
Edited translation from Al-Masry Al-Youm