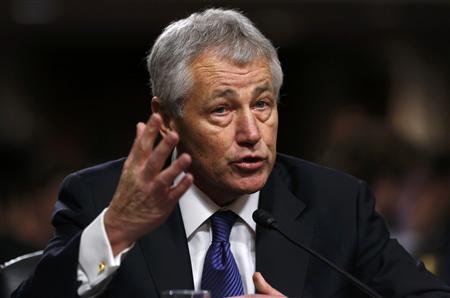 US Defense Secretary Chuck Hagel said on Wednesday the US effort to determine whether Syria has used chemical weapons is a "serious business" that cannot be decided in a rush just because several countries believe evidence supports that conclusion.
"Suspicions are one thing, evidence is another," Hagel told reporters as he wrapped up a visit to Egypt that included talks about Syria and other regional issues.
"I think we have to be very careful here before we make any conclusions (and) draw any conclusions based on real intelligence. That's not at all questioning other nations' intelligence. But the United States relies on its own intelligence."
A statement from Egypt's presidency Wednesday confirmed that President Mohamed Morsy met with Hagel and discussed the Syria conflict.
According to the statement, Morsy pointed to a consensus among regional and international parties on the importance of reaching a political settlement for the Syrian crisis in order to stop the bloodshed, prevent sectarian division, and maintain the unity of Syrian territory.
The United States has warned that any chemical weapons use by Syria, now convulsed by civil war, would cross a "red line" that would trigger some unspecified response.
Hagel rejected suggestions the United States was undermining its credibility by saying it was continuing to assess the issue, even as France, Britain and Israel have concluded evidence suggests chemical arms have been used in Syria's conflict.
A top Israeli military intelligence officer said on Tuesday that evidence supported the conclusion Syrian government forces had used chemical weapons – probably sarin – several times against rebels trying to overthrow President Bashar al-Assad.
The officer's remarks came in the final moments of a three-day visit by Hagel to Israel.
Syria's information minister was quoted as saying on Wednesday that Damascus would not resort to chemical weapons against its own citizens or even in the event of war with its neighbor Israel.
Hagel, who had not previously commented on the Israeli report, said that while he had discussed the Syrian conflict and chemical weapons with Israeli leaders, he had not been given the findings cited by the intelligence officer.
"When I was in Israel they did not give me that assessment. I guess it wasn't complete so I haven't seen the specifics, haven't talked to any Israeli officials, nor have I talked to any of our intelligence officials specifically about it."
US defense officials said it wasn't immediately clear whether the intelligence report reflected the final conclusions of the Israeli government or simply the Israeli military.
Hagel declined to elaborate on his discussions about Syrian chemical weapons with Israeli Defense Minister Moshe Yaalon.
Asked whether the assessments by France, Britain and Israel put pressure on Washington to make a judgment more quickly, Hagel said, "I don't think you judge these kinds of serious matters based on a time line.
"This is serious business and you want to be as sure as you can be on these kind of things, and until I see our intelligence assessments and the results of those, I can't respond any further," he said.
The Syrian government and rebels each accused the other of launching a chemical attack near the embattled city of Aleppo last month.
Syrian authorities last year acknowledged having chemical and biological weapons and said they could be used if foreign countries intervened in the conflict, a threat that elicited strong warnings from Washington and its allies.
Hagel's visit to Egypt also addressed the Israel-Palestine, with Morsy stressing during the meeting the need to reach a just and comprehensive settlement that took into account the legitimate rights of the Palestinians.
Egypt's Defense Minister Abdel Fattah al-Sisi also attended the meeting.