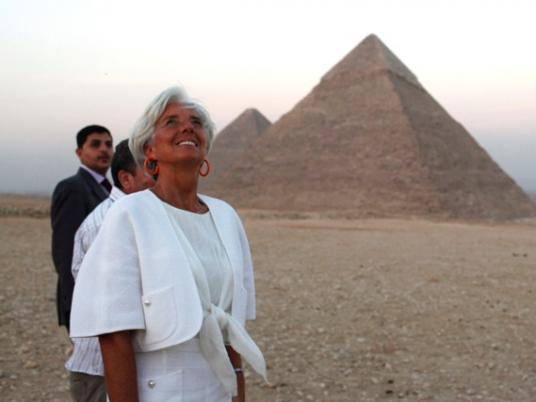 Egypt's state news agency MENA quoted International Monetary Fund chief, Christine Lagarde, in an
interview
published on Thursday, as praising a 5 percent wealth tax, which Egypt abandoned two days ago, as a step towards a fairer taxation system.
The tax, introduced in 2014 under President Abdel Fattah al-Sisi, was imposed on individuals and corporations with annual incomes above LE1 million, and was touted as past of government efforts to ensure a fairer taxation system.
But Egypt said it was abandoning the tax two days ago, with Investment Minister Ashraf Salman telling Reuters that the measure was part of a broader amendment to the taxation law that sets the maximum of income taxes at 22.5 percent, down from 25 percent enacted shortly before the ouster of Sisi's predecessor, Mohamed Morsi.
According to MENA, Lagarde, asked about recent tax reforms, said Egypt was moving in the right direction by seeking to expand the taxation base. The agency quoted her as referring to the abandoned 5 percent tax, among others, as a guarantee that all citizens were paying equitable tax shares.
Lagarde, quoted by the agency, said that Egypt's economic reforms have yielded positive outcomes over the past year, with the GDP scoring 6.8 percent in the first quarter of the current fiscal year. She expected growth rates to move up to 5 percent on the medium term, and predicted a more stable economy and improved employment rates should the government maintain its current reforms.
Last year, Egypt's Finance Minister Hany Qadry Dimian said the application of the tax was expected to yield LE3.5 billion.
According to the FInance Ministry's monthly
bulletin
for February, tax revenues declined by 14.3 percent to record LE186.7 billion in light of the decrease in taxes on corporate profits receipts by 46.5 percent.