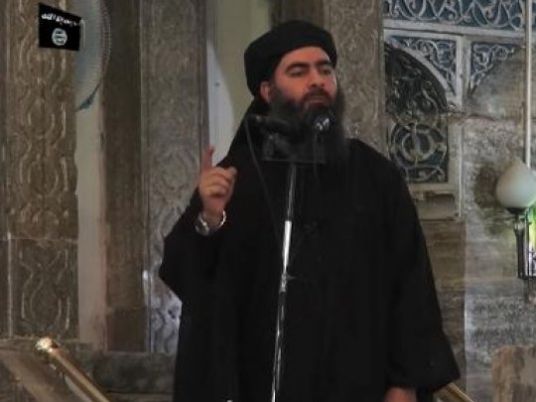 Iraq's security services were attempting Monday to confirm reports that Islamic State group leader Abu Bakr al-Baghdadi was wounded in an Iraqi strike on his convoy.
"We are still collecting and cross-checking information to reach an accurate assessment," interior ministry spokesman Saad Maan told AFP.
Iraq's security forces said in a statement Sunday that Iraqi warplanes had struck Baghdadi's convoy as it was heading to an IS leadership meeting in Karabla, near the border with Syria.
The statement said the building hosting the meeting was also struck.
Security sources in Baghdad have in the past made similar claims that were never verified and pro-IS accounts on social media mocked Baghdad's latest announcement.
Officials in Anbar, the vast Sunni province where Karabla is located, said however their information suggested the elusive jihadist supremo was wounded in the strike.
Rafa al-Fahdawi, the leader of an organisation grouping Anbar tribes opposed to IS, said the meeting in Karabla took place in a house that belonged to a local politician and had been occupied by IS.
"According to former members of the security forces living there, Baghdadi was seriously wounded and several Daesh leaders were killed," he told AFP, using an Arabic acronym for IS.
A senior security officer in Anbar also said he had received reports indicating Baghdadi was at least wounded in the strike on his convoy.
"According to Karabla residents, Baghdadi and some other leaders were taken to a hospital in Albu Kamal," a town directly across the Syrian border, some 15 kilometres (10 miles) away.
IS firmly controls long stretches of the Euphrates valley on both sides of the border, which was effectively abolished when the jihadist group launched a huge offensive in Iraq last year.
The statement released Sunday by Iraq's "war media cell", a structure which provides updates on the war against IS on behalf of the interior and defence ministries as well as the paramilitary Popular Mobilisation forces, said Baghdadi's health status was unknown.
The US-led coalition, which has carried out more than 7,000 air strikes against IS in Syria and Iraq since August 2014 — including dozens every week in Anbar — has not commented on the reported strike against Baghdadi.
The Iraqi jihadist chief, said to have been born in 1971, has a $10 million US bounty on his head.