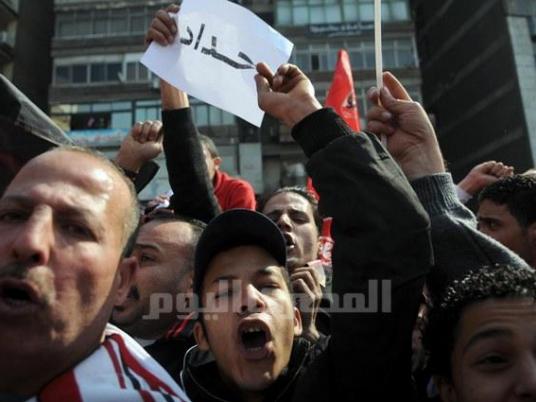 Ultras Ahlawy, a group of Al-Ahly Club football team fans, could be implicated in the case known publicly as "Storming Port Said Prison" where 52 people were killed in Port Said city, lawyer Ashraf al-Ezaby claimed on Tuesday.
Ezaby is the lawyer of the defendants in the case.
Ultras Ahlawy no longer chants the slogan "We either bring back their rights or die like them", which referred to the 72 killed Ultras Ahlawy members in Port Said in 2012, Ezaby said in his argument before the court Tuesday. Ezaby suggested that Ultras Ahlawy avenged the killing of its members by murdering 52 people in Port Said in January 2013 so they stopped chanting that slogan.
Ultras Ahlawy might have hired thugs to carry out the killings, said Ezaby, adding that no doubt those who committed the killings were not citizens from the city of Port Said because they would not shoot each other.
The testimonies of toppled President Mohamed Morsi and former Interior Minister Mohamed Ibrahim on how Ibrahim informed Morsi of the incident are contradictory, which proves that one of them is lying, he added.
The defendants in the case are accused of deliberately killing over 40 people including police officers Ahmed Balky, Ayman Abdel Azim and Ahmed Afify during riots in Port Said from January 26-28, 2013.
Violence erupted in Port Said on January 26 after 21 local youths were sentenced to death over charges of killing the 72 Al-Ahly football team fans.
Families of the defendants sentenced to death attempted to storm the area of the Port Said prison where their sons were incarcerated in protest of the ruling.
A Cairo court had sentenced 21 defendants to death for the killings of 72 Al-Ahly football fans in the aftermath of a match with Port Said's Al-Masry club in February 2012.
Police fired tear gas to disperse the families of the defendants and ultras supporting Al-Masry who had gathered around the prison in Port Said. Riots continued for several days in the governorate during which dozens were killed.
Edited translation from Al-Masry Al-Youm