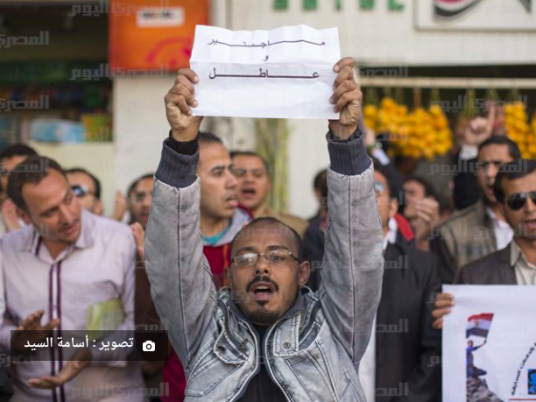 Dozens of master's degree and PhD holders staged a protest outside the Cabinet headquarters on Wednesday to demand administrative jobs with the government.
They chanted against nepotism and held their educational certificates in the air, continuing their ongoing campaign to demand the fulfillment of a pledge by the Cabinet in 2002 to provide government jobs to those with postgraduate qualifications from public universities.
Among the chants heard were: "Sisi has called the youth. Here we are"; "If you are asking who we are, we are the humiliated professors"; "We are the outstanding students, free from nepotism"; and "We are not terrorists or thugs."
Mohamed Sabry, the coordinator of the protest, said that master's degree and PhD holders will continue to demand government jobs in accordance with the Cabinet promise.
He added that a press conference is planned for 4 p.m. at the Journalists' Syndicate, at which escalatory moves will be announced.
The past months have seen recurrent protests by the post-graduates, with the police intervening in some cases.
Edited translation from Al-Masry Al-Youm