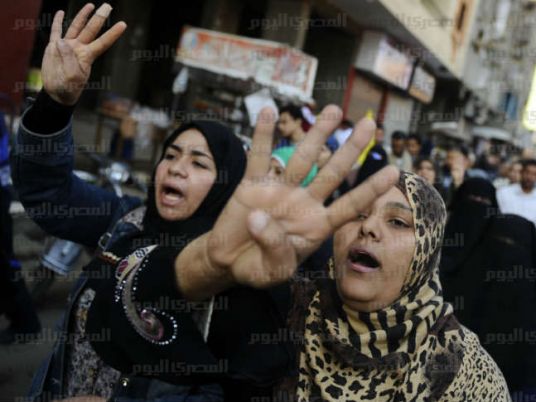 Director of the ambulance facility in Fayoum Magdy al-Sayed, announced on Friday, the injury of two people with birdshot in clashes between the security forces and supporters of the Muslim Brotherhood.
Hundreds of supporters of the Muslim Brotherhood staged a march after Friday prayers in the City of Fayoum and chanted against the military, police, and former Defense Minister and presidential hopeful Abdel Fattah al-Sisi.
The march caused traffic congestion after which security forces used tear gas to disperse protesters, leading to clashes.
Two passers-by were injured with birdshot as protesters reportedly shot at the security forces. The injured were transferred to hospital and the prosecution was notified for investigation.
The security forces meanwhile dispersed small marches for Muslim Brotherhood supporters in different parts of Alexandria after Friday prayers and arrested 25.
Alexandria Security Directorate said in a statement that the protesters chanted against the police and military and blocked traffic. The statement added 25 protesters were arrested while possessing pictures for toppled President Mohamed Morsy, fireworks and bladed weapons.
Dozens of Muslim Brotherhood supporters in Daqahlia staged human chains in many villages to protest the presidential elections which ended last Wednesday.
The 7am Movement staged a human chain in Meit Ghamr and raised images for Morsy and Rabaa signs. Another human chain was staged by dozens in Menyet al-Nasr to protest the presidential elections which they described as a "farce."
In Senbelaween City, dozens of Muslim Brotherhood supporters staged a human chain on Senbelaween-Kafr Youssef road and raised the images of their detained relatives and friends demanding their release.
Edited translation from Al-Masry Al-Youm