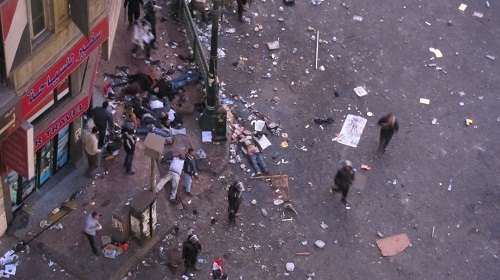 Like other Egyptians who were provoked by the pictures of the injured people during the Mohamed Mahmoud clashes in 2011 — the first anniversary of which was commemorated today with demonstrations and renewed clashes — Noha Zayed, 33, decided to go to the Tahrir Square last year out of curiosity and a sense of engagement.
She did not know what this simple thrust to be in the square would get her and her husband into.
It was the Saturday after the "One Demand Friday" demonstration of 2011, as the revolutionary youth and civil forces called it, or the "Dropping of Selmy's Document" demonstration, as the Muslim Brotherhood called it. Protesters had rallied to call for a halt on a set of pre-constitutional rules enshrined in a document named after then-Deputy Prime Minister Ali al-Selmy which would grant the military institution sweeping authorities.
On that Saturday, 19 November 2011, army and police forces attacked demonstrators and families of the martyrs of the revolution, who staged a sit-in after the departure of Islamist forces the previous day. Word got out quickly on social networking sites, pictures of the attack were posted online and calls were trumpeted to go and defend the demonstrators.
More people came to the site, forcing the army and the police to retreat to Mohamed Mahmoud Street, where clashes began and remained for the five days to follow. More than 40 people were killed, hundreds injured and lost their eyes and the clashes remained engraved in the collective memory of the country's revolutionaries.
Coming from 6th of October City, Zayed, the managing partner of a clothing line, told her husband, 38-year-old Mohamed Mansour, to meet her in the square after he finished work at an international petroleum company in Maadi.
After Mansour finished work he met his wife in Tahrir Square. "It was relatively calm," he says. "My wife was curious to go see what was happening on Mohamed Mahmoud Street."
When they went there, a few kids tried to stop them, warning them of heavy clashes further down the street. "I did not pay attention to them, for I've seen this before," he says. "I loudly called on everybody to stay put."
"I usually played the role of a traffic policeman in organizing peoples' movements when things like this happened," he says. "But this time the traffic was like a stampede."
He and his wife saw the security forces and the military police attacking. They had enough space behind them to run, but Mansour was pushed and fell down. "When I tried to get up, a man fell on top of me and pushed me to the ground again. He was not heavy, but then more and more people fell on us," says Mansour. "I put my hands under my chest as I was unable to breath. This helped me, but my hands got badly bruised."
"I was looking for my husband at that moment, but the crowd pushed me away," Zayed says. "Suddenly I found myself in the subway station."
"I went out to Talaat Harb Square, which was relatively calm, and tried to call my husband on his mobile phone. That's what we do when we can't find each other. But his phone was not reachable, so I thought he was either wounded or arrested."
She did not know Mansour was lying on the ground with a pile of people on top of him.
"I began to lose sensation gradually," he says. "I decided to focus on breathing, like with yoga. But I fainted seconds later."
"Actually, I didn't know if I fainted. I was thinking of death. And I did feel I was dead and had moved to another life whose dimensions I began to understand."
"I don't know how long I stayed like that, but then I realized that I was alive. I felt I was coming out of a deep abyss, and I started to hear ambient sounds," he continues.
"I found myself in the field hospital. I started thinking of my wife. I realized that I lost my phone, so I took a phone from a lady. I felt I was ok, but I did not remember my wife's number."
His wife was waiting for him in the car. "I went to the car to recharge my phone," Zayed says. "And he called and told me he was in the field hospital."
The couple met again, and Mansour's brother came to see him when he heard he was injured. They then tried to leave the place, which looked like a battlefield, before security forces attacked it again.
"My face was smeared with blood and mud, and so were my clothes. I could have been easily identified as a demonstrator, so I went to a friend's apartment downtown, took a blanket from him and wrapped myself with it. Then I went to a hospital I knew would not turn me in," Mansour says.
On their way to the hospital, Zayed was still following up on what was going on in the square with passion. She saw images of many people injured and dead lying on the ground next to the garbage. "It was shocking, but what was more shocking was that my husband was one of them."
They later went home and showed their children, Selim, who is seven years old, and Ali, who is five years old, videos of their father on YouTube while he was lying in the middle of the garbage. "We are proud of you, Daddy," Selim told him.
The couple did not take part in Mondays' commemoration marches. They found no reason why more than 50 political parties and movements came to the square.
"The real protagonists of Mohamed Mahmoud Street were those unknown people who were provoked by the pictures and came of their own free will to defend the demonstrators," says Mansour. "The parties and movements only followed them."
Zayed opines that taking part in commemorations is optional. "But defending people against police brutality was mandatory for us last year."
Translated from Arabic by Ibrahim Hab El Roman