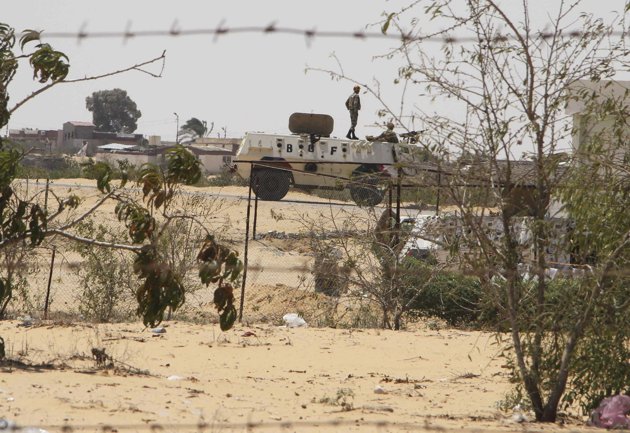 Four military and policemen participating in the military crackdown "Operation Eagle" were injured in Sinai when gunmen fired an RPG at their armored vehicle on their way back to Arish on Saturday, AFP quoted an Egyptian security official as saying.
The security officials were quoted as saying that militants fired a rocket-propelled grenade at a security convoy in Sinai, wounding three military officers and a policeman.
The campaign had broken into three houses in the village of Sidot in Rafah, arresting two suspects, while the third managed to escape.
The militants attacked the policemen near the town of Sheikh Zuwayid, roughly 15 km west of the border with Gaza, as they were returning from an operation, the official said.
The security officials said soldiers and policemen had earlier arrested two Islamist militants near the divided town of Rafah on the Egypt-Gaza border.
The troops were returning from a raid on the homes of suspected militants and had arrested two people.
Security forces launched a campaign to crush increasingly brazen Islamist militants in the restive peninsula after an attack on an army outpost killed 16 soldiers on 5 August.
The government has always struggled with militancy and smuggling in the region, but it lost its grip after an uprising overthrew president Hosni Mubarak early last year, prompting the collapse of his discredited police force and allowing militants to flourish.