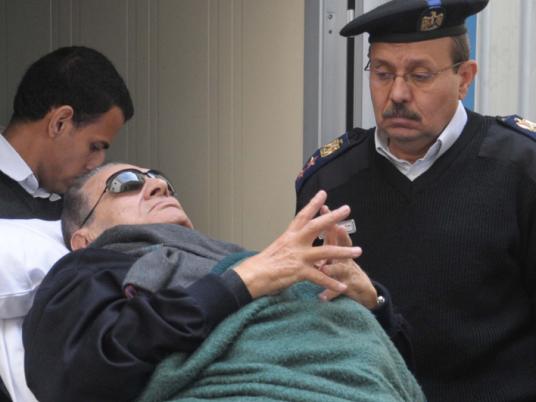 An MP from the Free Egyptians Party on Tuesday submitted an interpellation to Prime Minister Kamal al-Ganzouri regarding the costs of transporting former President Hosni Mubarak to trial and returning him to the International Medical Center where he is detained.
An interpellation is a parliamentary procedure of demanding that a government official explain some act or policy, and requires a minister to stand before Parliament to give explanations.
The costs of transporting Mubarak by private plane remain unknown, and it is unclear how tightened security measures are being funded.
The government's gag order on the issue has fueled speculation. Some estimate the costs of transporting and securing Mubarak's trial at LE10 million.
The interpellation is the first of its kind since Parliament held its first session on 23 January. The People's Assembly has been mostly preoccupied with martyrs' issues.
MP Mohamed Abdel Rahman inquired whether the Defense Ministry incurs the cost of flying Mubarak on a helicopter to court.
The state-owned Rose Al-Youssef newspaper had, on 18 January, quoted a source close to the Mubarak family as saying that the cost of guarding and transporting the former President exceeded LE10 million in December.
Two-hundred security personnel from the Interior Ministry guard Mubarak. Some fear that unknown parties have planned to assassinate Mubarak in the medical center.
Translated from Al-Masry Al-Youm