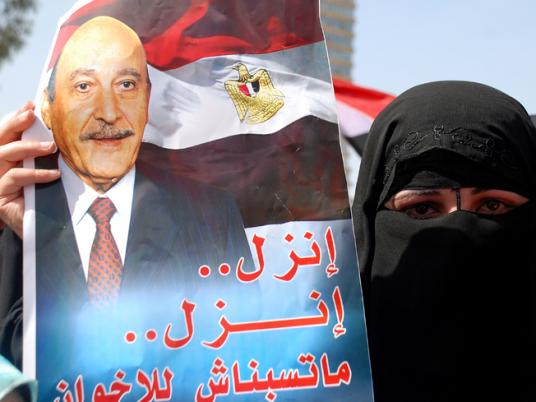 A number of former members of the now-disbanded National Democratic Party (NDP), local councils, and former MPs held a meeting in Daqahlia Governorate Thursday to discuss how to support former Vice President and presidential hopeful Omar Suleiman in light of what they called the "fierce campaign" launched against him, especially by the Muslim Brotherhood.
The meeting participants also discussed how to confront the amendment of the political rights law, approved by the People's Assembly on Thursday, which would ban those who held high-ranking positions under Mubarak from running for public office for the next nine years.
Yousry al-Moghazy, former NDP MP for the Belkas constituency, where the meeting was held, said: "We are all one … and we are now looking for nothing but dignity, which is more precious than anything and above all else. It is an honor for us that we are 'remnants,' but respectable 'remnants' who haven't [stolen] anything to be held accountable for. We are with the revolution and with change, but in order for that to happen, a particular group or faction should not have complete control."
The meeting was held in a factory Moghazy owned, and 200 workers were in attendance.
"The country is being cut apart piece by piece, and if we do not take a stand, it will be lost," Moghazy added.
The Wafd Party newspaper said on its website that dozens of former NDP members and supporters in the village of Ashmoun in Monufiya Governorate staged a protest on Friday to support Suleiman's presidential run.
The protesters chanted provocative slogans against the Muslim Brotherhood including, "No to the Muslim Brotherhood, the people want Omar Suleiman," and "Oh Shater, oh coward, you are the Americans' agent," Al-Wafd reported.
The protesters reportedly assaulted Brotherhood members who intercepted their march through the village.
Translated from Al-Masry Al-Youm