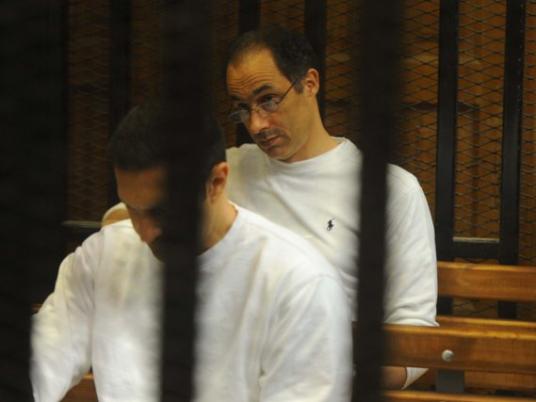 Public Funds Prosecutor Ahmed al-Bahrawy on Sunday referred ousted President Hosni Mubarak, his two sons and four others to the Cairo Criminal Court. They are accused of squandering some LE125 million from funds allocated for presidential palaces.
Mubarak paid back LE104 million he spent during his terms as president.
The court had returned the case to the prosecutor to complete investigations.
The four other defendants are Mohi Eddin Abdel Hakim of the Central Department for Presidential Communications, Amr Mahmoud Mohamed Khedr, an engineer at the presidential palace, and Abdel Hakim Mansour and Magda Ahmed Hassan, engineers at the Arab Contractors Company. They are accused of facilitating the funds for the benefit of Mubarak and his family to spend on their private villas in Heliopolis, Orabi, Katameya, Sharm El-Sheikh and Marina from 2002 until 2011.
The offence was proved by the Central Auditing Organization and the Ain Shams University Faculty of Engineering.
Edited translation from Al-Masry Al-Youm