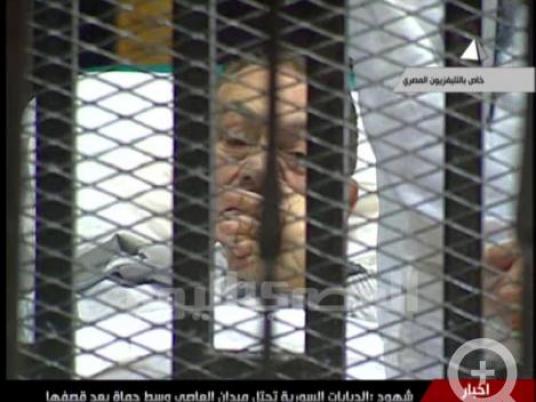 The defense team of former President Hosni Mubarak, his two sons, Alaa and Gamal, former Interior Minister Habib al-Adly and six of his aides, will begin its arguments to the court on Tuesday.
Mubarak's lawyer, Farid al-Deeb, will present reports by the disbanded State Security and Investigations Service on the demonstrations of 25 January. "I asked to speak for five sessions, given the complexity of the case," he said.
Deeb denied that he received instructions from Gamal Mubarak or his mother, Suzanne Thabet. "Nobody knows what I will say," he said.
"Why were the defendants brought to trial in the first place if the prosecution said it could not collect evidence as the competent bodies refused to collaborate?" Deeb said.
He explained that the Kuwaiti lawyers who came to defend Mubarak will be present only as auditors.
He also said Mubarak must lie on a bed in court. "He is vulnerable to another stroke at anytime," he noted.
Meanwhile, a medical source said Mubarak is in no condition to be carried to the court room every day, and expected he would miss some sessions.
Earlier this month, the chief prosecutor in the trial demanded the death sentence for Mubarak and other defendants, including the former interior minister, for their role in the killing of protesters in the uprising that swept him from power early last year.
Translated from Al-Masry Al-Youm