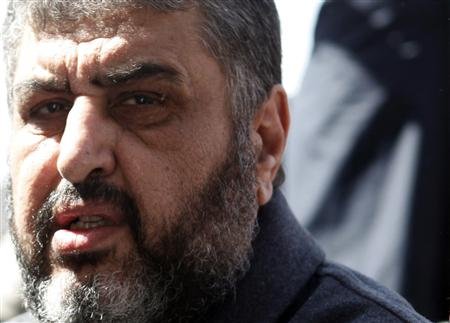 Egypt's former president Hosni Mubarak returns to court Sunday to face charges over the killing of peaceful protesters as Muslim Brotherhood leaders make their first appearances in court on similar but unrelated charges.
Separate hearings in different parts of the capital come against the backdrop of continued tension in the country, which has been rocked by political turmoil since the army ousted Islamist president Mohamed Morsy 3 July following nationwide demonstrations against Muslim Brotherhood rule.
Mubarak, who left prison for house arrest this week, is scheduled to appear at a hearing in his retrial on charges of complicity in the killing of protesters during the 2011 uprising that forced him to step down. The case is one of several against the former president, who was granted pre-trial release this week having served the maximum time permissible in remand.
Mubarak was placed under house arrest by Interim Prime Minister Hazem El-Beblawi, acting on the basis of special powers granted to him under the country's state of emergency.
The 85-year-old former president Mubarak is being held at a military hospital in Cairo. It was not immediately clear if he would attend the morning court hearing at the Police Academy.
Mubarak was convicted last June and sentenced to life in prison on charges of complicity in the killing of peaceful protesters in 2011, but a retrial was ordered in January after he appealed.
He could face the death penalty in that case, and is also facing charges in several corruption cases.
As his hearing begins, Brotherhood Supreme Guide Mohamed Badie and two deputies — Rashad Bayoumi and Khairat Al-Shater — are to make their first appearance before a court on charges of inciting the murder of protesters.
Badie was take into custody just last week — the first time a Brotherhood supreme guide has been arrested since 1981.
El-Shater and Bayoumi were rounded up earlier, following the ouster of Morsy, a fellow Brotherhood member.
They are accused of inciting the murder of protesters who died outside their Cairo headquarters on the evening of 30 June, when millions of Egyptians attended anti-Morsy protests.
Another three Brotherhood members will stand trial with them, accused of carrying out the murders in question.
All six face the death penalty if convicted.
Egyptian authorities have issued arrest warrants and detention orders for hundreds of Brotherhood members and detained several senior leaders of the group in recent days.
According to security sources, at least 2,000 have been arrested since 14 August.
Morsy, who is being held at an undisclosed location, faces charges related to his escape from prison during the 2011 uprising, as well as complicity in the deaths and torture of protesters.
The latter charge involves demonstrations against him outside the presidential place in late 2012.
Sunday's court cases come after days of relative calm in Egypt, following a week of unprecedented bloodletting in the country that began on 14 August when security forces moved to break up two pro-Morsy protest camps in Cairo, sparking clashes that left around 600 people dead across the country in a single day.
Additional violence followed in the days after, raising fears of prolonged bloodshed.
But authorities have mounted a fierce crackdown against the Brotherhood and its allies that has thinned the group's ranks and sent many members into hiding.
The arrests have also shattered the group's structure and made it increasingly difficult for the group to turn out in force at demonstrations.
On Friday, just a few thousand took part in marches across Cairo — a stark drop from the tens of thousands that had turned out in previous demonstrations.
The government has insisted it will proceed with a political roadmap laid down by the army following the dismissal of Morsy 3 July, one which includes a plan for a new constitution and elections, but is rejected by the Muslim Brotherhood.