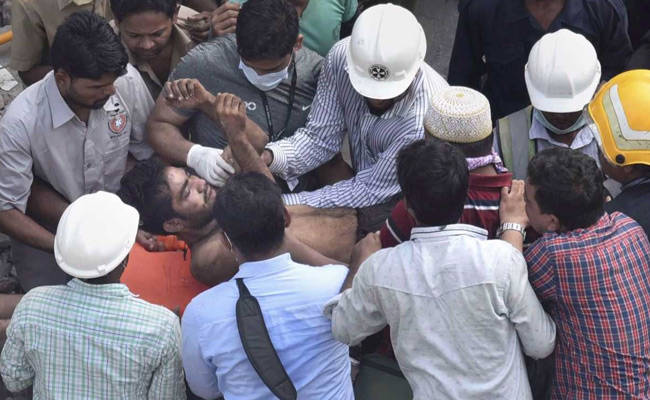 An 117-year-old condemned building collapsed in the Indian financial hub of Mumbai on Thursday after two days of torrential rain, killing at least 21 people, with some feared trapped.
Thirteen people were rescued and were recovering in hospital, with six firemen also injured in the six-storey building, the chief fire official said.
"There was a massive bang. We couldn't see anything due to the dust and smoke. Once the dust settled, we realized it was a building collapse," said area resident Amina Sheikh.
Disaster struck early in the morning as Mumbai was emerging from two days of heavy rain that flooded the city and killed 14 people.
The collapse was the second in Mumbai in a little over a month. In late July, 17 people were killed when a four-storey building collapsed after suspected unauthorized renovations.
The building that collapsed on Thursday in one of the most densely populated areas of the city housed a nursery school, despite being declared unsafe by the city's municipal housing authority in 2011.
And families were still living there.
Desperate relatives pleaded with rescuers to help find their loved ones after getting phone calls from trapped survivors. About 200 police and fire personnel sorted through the debris.
Police had yet to determine what caused the collapse near Crawford market, a landmark of south Mumbai's old city with narrow streets packed with markets and shops. Many Muslims live in the neighborhood.
Rescuers said the area's narrow roads made it difficult to bring in excavators.
The building housed a sweet shop warehouse on the ground floor and a nursery school on the first floor, although the collapse happened before the children arrived.
Devendra Fadnavis, the chief minister of the state of Maharashtra, said the government had given final notice for the building's demolition in May 2016, but added some families had refused to leave.
The building was among 791 the city's municipal corporation had listed as dangerous.
But residents frequently refuse to leave, and as a result, only a few of those buildings have now been evacuated or demolished. An official of the Brihanmumbai Municipal Corp told Reuters more than 500 were still occupied.
A housing trust that was looking to redevelop the area said the housing board had offered alternative accommodation to tenants, but only seven families had moved out by early 2014.
Some residents in the area said people had not been given proper details of what type of new housing they would be provided, making them reluctant to leave.
"We also want redevelopment of our building, but developers or government should make alternate arrangements until redevelopment work completes or it should pay rent," said Ati Allah, 60, whose grandfather bought a small room more than 100 years back in a neighboring old building.
"We don't have any problem. But there is no clarity how the government wants to do redevelopment."