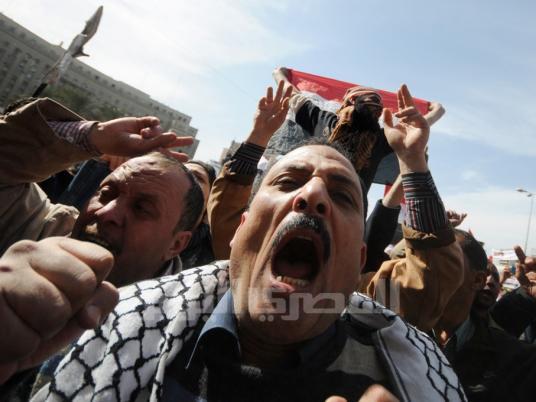 Egypt's governorates saw opposing calls on Friday from protests demanding an end to military rule, those expressing support for the ruling Supreme Council of Armed Forces (SCAF), and groups opposing a massive strike planned for this Saturday.
In Alexandria thousands staged a march from al-Qaed Ibrahim Mosque to Raas al-Tein Palace, where thousands of pro-SCAF protesters had already gathered.
Anti-SCAF protesters chanted slogans demanding a swift transfer to civilian power and an acceleration of the trials of those implicated in killing protesters during the revolution and the transitional period. They also expressed support for the civil disobedience planned for Saturday. The nationwide strike is meant to pressure SCAF to hand over power.
Naval forces formed barricades to separate the pro-SCAF and anti-SCAF protesters to avoid any potential clashes.
In Suez, dozens of members of the Salafi movement and the Muslim Brotherhood along with hundreds of residents gathered downtown to denounce Saturday's planned protest measures. They waved banners that read: "No to civil disobedience," and "Come on to work", "Down with America", and "We want retribution for the martyrs."
They also chanted through speakers: "Whoever loves Egypt does not destroy it" and "We are the Suez people against the thugs."
In Port Said, dozens gathered in front of Maryam Mosque and chanted "The people and the army are one hand," and chanted slogans stressing that Port Said is innocent in the death of at least 71 fans during violence following a football match over a week ago. They also held images of the victims.
In Beheira Governorate, hundreds of activists marched through the streets of Damanhur City and chanted against the ruling military council, saying that SCAF will only respond to people's demands under pressure from demonstrations, sit-ins, general strikes, civil disobedience and all forms of peaceful protests. They called on citizens to participate in Saturday civil disobedience.
In Dakahlia dozens of members of the Kifaya movement and Karama Party gathered in front of the headquarters of the governorate after Friday prayers, demanding the departure of the military council and the handover of power to civilians.
In Minya dozens of members of the 25 Revolution Youth Coalition gathered in the Square of 25 January Martyrs, previously called Palace Square. They chanted: "Down with the military rule," demanding the departure of the junta, and held up banners calling on people to join the strike and civil disobedience.
Translated from Al-Masry Al-Youm.