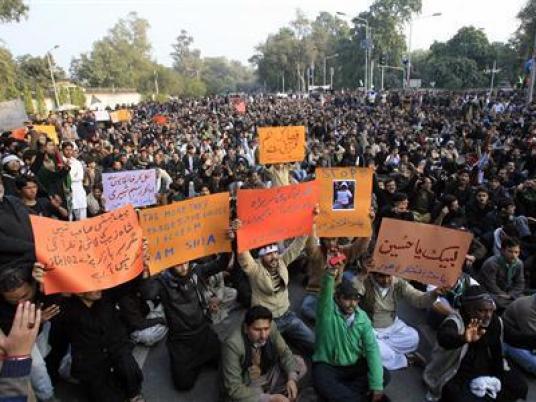 Pashtun tribesmen from northwest Pakistan dumped 15 bloody bodies in front of government offices Wednesday, protesting against what they said were extra-judicial killings by security forces in the latest challenge to the government's authority.
The protest in the northwestern city of Peshawar follows a three-day sit-in by members of the Shia community alongside the bodies of 96 people killed in a sectarian bomb attack in the southwestern city of Quetta, and coincides with a protest against corruption in the capital that has attracted thousands of people who have set up tents in front of parliament.
The Supreme Court also ordered the arrest of Prime Minister Raja Pervez Ashraf Tuesday in connection with a corruption investigation, compounding a sense of crisis for the government.
In Peshawar, the protesters said members of the security forces had arrested the victims Tuesday after the beheading of six paramilitary forces in the area three days ago.
Their bullet-riddled bodies were later dumped in their village in the in Alamgudar area of the Khyber region, the protesters said.
The Frontier Corps, the paramilitary force chiefly responsible for the area, did not give an official comment. Privately, officers denied responsibility.

In an echo of the Quetta demonstration last week, the protesters laid out the bodies on blankets in front of the governor's house in the provincial capital and insisted they would not bury them until their demands were met.
Those include an impartial inquiry and punishment for those responsible. A committee of the protesters demanded that the government stop a military operation in their area, withdraw a 5-year-old curfew and compensate the victims.
"Where we should go to seek justice?" asked protester Gulajab Afridi. "There is dark night in Khyber Agency. There is no one to check the barbarism of the Frontier Corps against local people. Our blood is worth nothing."
He said villagers were trapped between the military and the militants.
"The militants of Lashkar-e-Islam wanted us to stay in our homes and don't want us to vacate our villages but when we stay there, the security forces arrest us on charges of supporting the militants," said 45-year-old Haji Gul Jabbar Afridi.
Human rights groups have for years accused the security forces of abductions and killings. The security forces deny that.
The rights group Amnesty International said in a recent report that civilians in the ethnic Pashtun areas along the Afghan border, where Taliban and Al-Qaeda militants operate, are frequently abducted, tortured and executed by either the military or the militants.
The military strongly refuted the report.
While the Frontier Corps declined to comment a force official speculated that the killings might have been done by militants in disguise.
"They were the militants who wear Frontier Corps uniform and kidnap people and later kill them just to create hatred among the people against Pakistani security forces," he said.