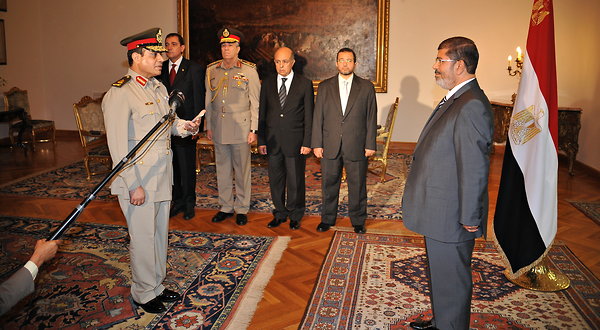 Ahmed Roshdi Salam, a Justice Ministry spokesperson, said he had received more than 100 petitions calling for military rule as of Monday. He also denied rumors that the notary office in Port Said was closed to prevent citizens from submitting more pro-military petitions.
Numerous groups and citizens in Port Said signed petitions last week demanding Defense Minister Abdel Fattah al-Sisi to take control of the government in protest over President Mohamed Morsy's inability to end ongoing unrest throughout the country.
So far, military leadership have not responded to the petitions or growing calls for their return to power.
Meanwhile, supporters of Salafi Hazem Salah Abu Ismail, threatened to organize petitions calling for Abu Ismail to take over. Abu Ismail also called for the justice minister's resignation Tuesday in a Facebook post.
The Salafi's supporters also said they were willing to throw their support behind Mohamed Badei, the Muslim Brotherhood's supreme guide, or Khairat al-Shater, the party's deputy supreme guide, in an effort to prevent a new era of military rule.
On Tuesday, a lawyer in Daqahlia signed a petition calling for Mohamed ElBaradei, the Dostour Party chief, to become Egypt's new leader, adding that the country needs the kind of leadership ElBaradei is known for during this difficult time.
Meanwhile, ONA news agency reported that Suez activists are backing a petition insisting former presidential hopeful Khaled Ali should replace Morsy at the helm.
In an interview with Al-Hayah satellite TV channel on Monday, Salam added that Justice Minister Ahmed Mekky said anyone can create a petition to call for new leadership, however, the petitions should not violate public decency.
The minister has referred the petitions to the judiciary to mull their legal implications, according to Salam.
The tradition of creating petitions came about after WWI when thousands of Egyptians submitted petitions authorizing politician Saad Zaghloul and his coalition to speak on behalf of the public a reconciliation conference in Paris, where Egypt demanded independence from the British.
The tradition came back in 2009 when 1 million people signed a petition authorizing ElBaradei to represent them during discussions over constitutional amendments and political reform.