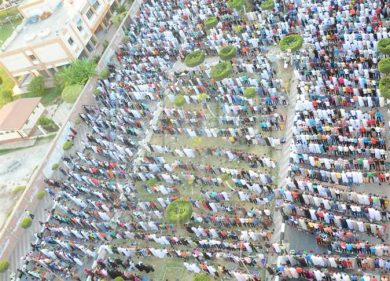 Across the Muslim world, many are celebrating the festival of Eid al-Adha, considered one of Islam's revered observances.
Also known as the Feast of Sacrifice or "big Eid", the four-day holiday is one of two Eid festivals observed by the Muslim faithful. The second, Eid al-Fitr, comes at the end of Ramadan, the month of fasting.
Thousands of Muslim pilgrims have been descending upon the complex in Mina since dawn on Friday to toss rocks at the three pillars, known as Jamarat, which symbolize the devil.
Eid al-Adha remembers when Allah, or God, tested the faith of the prophet Ibrahim by asking him to sacrifice his only son as an act of obedience. Just as Ibrahim was about to sacrifice his son, Allah stopped him and gave him a sheep to kill instead. A version of this story is also found in the Christian Bible, where Ibrahim is known as Abraham.
Muslims celebrate the Adha — the Arabic word for "sacrifice" — by slaughtering sheep and distributing the meat to the poor. They also are required to donate to charities that benefit those less fortunate. Muslims also often celebrate by visiting friends and family, exchanging gifts and participating in feasts.
For those who have made the pilgrimage to Mecca, this is the most dangerous point in the journey with thousands streaming back and forth between the pillars and the Kaaba. In previous years, many have been wounded or killed by stones thrown from further back during the ritual.
The Hajj comes full circle with pilgrims returning to The Grand Mosque for their final prayers before they return to their families at home and continue to observe the remainder of Eid al-Adha.
Returning worshippers are greeted with fanfare. Congratulations from neighbors pour in and their homes are usually decked out in festive lighting.