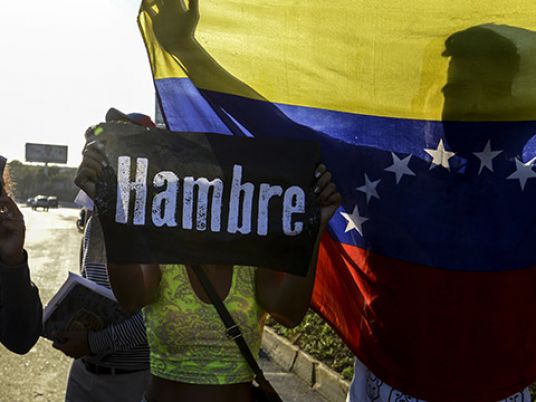 Venezuelan opposition groups demonstrated in front of the National Attorney's General office in Caracas Friday, accusing the Venezuelan leader of a coup.
Venezuela faces calls for more street protests Saturday at the tensest moment yet in a political and economic crisis that has brought it close to collapse.
President Nicolas Maduro's opponents called on Venezuelans to take to the streets and urged the army to abandon him, branding moves to consolidate his power a "coup d'etat."
Maduro has clung to power in a more than year-long standoff with his center-right opponents, but on Friday a sign emerged of possible division in his camp when the attorney general broke ranks with him.
Yet uncertainty reined in the volatile nation hit by food shortages and violent crime, which has seen three attempted military coups since 1992.
Maduro Defiant
Maduro faced the strongest criticism ever from within his own camp Friday as his attorney general condemned recent court rulings that strengthened the socialist president's grip on the levers of power.
Attorney General Luisa Ortega denounced on live state television what she called a "rupture of constitutional order."
She was referring to two Supreme Court rulings this week that effectively dissolved the opposition-majority legislature and revoked lawmakers' immunity from prosecution.
Maduro's opponents and political analysts alleged a coup and international powers condemned the moves.
The government rejected that accusation.
Maduro said in a speech to cheering supporters late Friday: "In Venezuela, the constitution, civil, political and human rights and people power are in full force."
He vowed "through dialogue and the constitution, to resolve the impasse" between the attorney general and the court.
He also said he had called a meeting of security chiefs to "deliberate and draw up a resolution."
Scuffles, Arrests
The legislative speaker, Julio Borges, called on the military and other institutions to follow Ortega's example and speak up against Maduro.
"Now is the time to obey the orders of your conscience," he said.
Street protests erupted for a second day Friday in Caracas. Students marched on the Supreme Court, where they scuffled with soldiers.
Protesters also blocked streets in the working-class Petare neighborhood, and opposition lawmakers clashed with Maduro supporters downtown.
Two students and a journalist were arrested, activists said.
International Concern
International condemnation has poured in from the United States, the European Union, Spain, Germany and a host of Latin American countries.
The head of the Organization of American States, Luis Almagro, has called for the regional group's permanent council to hold crisis talks on the situation.
South American regional bloc Mercosur — which suspended Venezuela in December — will also hold crisis talks Saturday, Argentina announced.
Power Struggle
The opposition Democratic Unity Roundtable (MUD) won a landslide in legislative elections in December 2015.
But the court has overturned every law passed by the current legislature.
Venezuela has the world's biggest oil reserves, but the collapse in prices has sapped its revenues, prompting shortages of food, medicine and basic goods.
Maduro is not up for re-election until October 2018. But he has been forced to fend off opposition efforts to call a vote on removing him from power.
Protests called
Outside a supermarket in Caracas, Venezuelans were agitated at the news as they queued to buy food rations.
"If it's not a coup then it looks very like one," said mechanic Eduardo Rodriguez, a 58-year-old mechanic. "It looks very ugly to me."
Opposition groups called for more street protests Saturday.
"We have to come out and defend democracy," said Sara Ramirez, 68, a building porter, waiting in line. But others were sick of the political conflict.
"I don't support either side," said Yandry Diaz, 18, who works in a shoe shop. "What they want is to have us in the street, fighting and killing each other so that they can hold power."