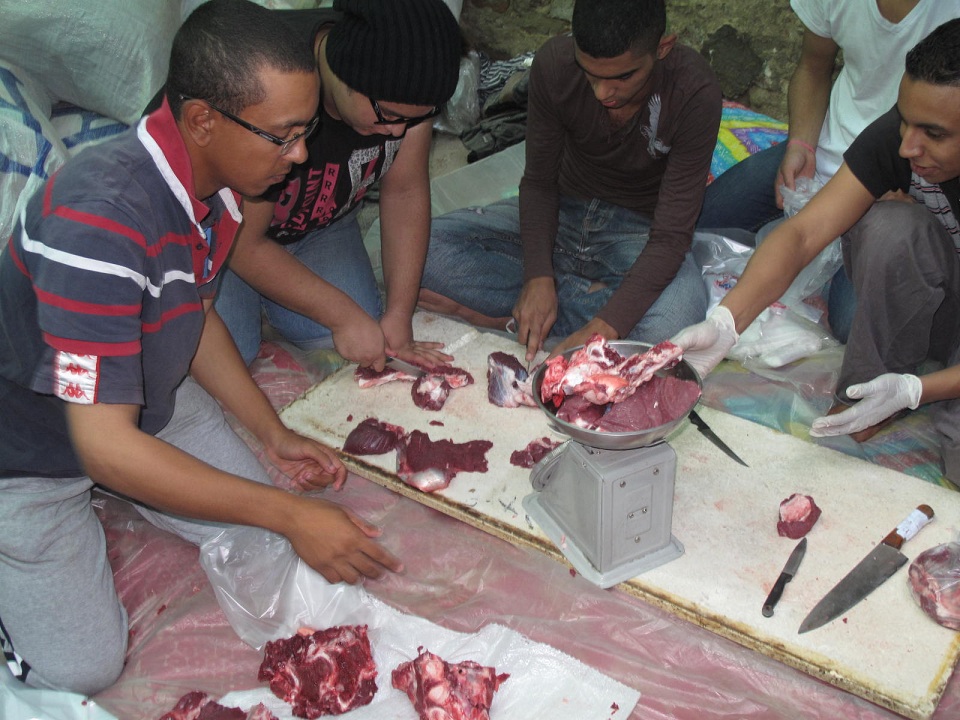 Mahmoud Anwar Halfy's calm belies his passion. It is 6 am on 26 October, the first day of Eid al-Adha , and Halfy is ready to get to work. As one of the founding members of the Shubra branch of the Resala charity organization, today brings to fruition months of his team's hard work and planning. He is barely able to hide his anticipation behind a shy smile.
Eid in Shubra happens much as it does in many other places across Egypt. The day begins early with morning prayers. The mosques are filled to capacity, and believers spill out into the streets. After prayers and a quick breakfast, the hard work begins.
The slaughter takes place in the dirt streets of Shubra. The buffalo to be sacrificed are marched out of their makeshift pens one at a time to the awe and delight of the local children. As the animals are about to be killed, boys jump on their backs to test their manhood. The neighborhood is loud with the pop of firecrackers and the laughter of playing kids.
After the killing the streets are muddy with blood. The carcasses are broken down by local butchers. Mechanics' garages serve as impromptu butcher shops, the slabs of meat hanging from pulleys usually used to hoist engines. The meat is then taken down the street to a Resala storage building where volunteers break it down further and portion it in to one- and two-kilo bags. Nothing is let go to waste.
Once the butchering of the first animal is complete, distribution begins. This year the Shubra branch of Resala raised enough money to buy six buffalos, costing about LE10 thousand apiece. The meat will feed over 1,500 people in need in the community. Donations have increased over the years, but are down from last year when nine buffalos were killed.
In the afternoon, after the butchering is complete, the 50 or so volunteers finally get a chance to rest. They relax with food and laughter, but at Resala, there's still more work to be done.
Founded in 1995 by Dr. Sharif Abdelazeem, Resala has become one of Egypt's largest charity organizations, with 54 locations throughout the country — seven in Cairo alone. Its main goals are to feed, clothe and educate the needy, with the slogan "pleasure through giving."
However, many in Egypt believe that Resala is affiliated with the Muslim Brotherhood, and their work is an apparatus for garnering votes from the poverty-stricken.
But Halfy denies the affiliation.
"Our message is to serve everyone in need. Everyone in Shubra is represented, regardless of religion or politics," he says.
He's only 24, but Halfy was among the 30 volunteers who used their own money to found the Shubra branch of Resala in 2006.
"Resala is my home," said Halfy. "It's like my child, I helped raise it."
And it's clear that his hard work has paid off. The Shubra branch of Resala began in a small, 12 square meter room, but has grown to a full floor of a building with separate sites nearby for storage and distribution. They have 300 registered volunteers, with 50 to 60 active on a regular basis.
What's most striking about Resala is the diversity of the volunteers. They come from all walks of life and all political backgrounds, united with the goal of helping those in need.
"Before coming to Resala, I didn't think that men and women should be working together," said Mohamed Salama, a Salafi Resala volunteer. "But now I realized that we must come together because the poor need our help."
Salama's job at Resala is working with orphans and the elderly.
"Orphans don't need money," he said. "They need what they've lost — relationships. They need help studying, socializing, medical attention."
It's this pragmatic approach to charity that influences all that Resala does. Resala offers those in poverty ways to help themselves. This includes organizing courses in topics like language, business and management; providing small short-term, interest-free loans; creating employment projects aimed at teaching practical skills, and selling donated clothing for low prices.
"We don't just give away clothes," said Halfy, "but we sell them for very cheap. If a man can choose the shirt he wants, and he pays a pound for it, he gets a sense of pride and ownership he wouldn't have if it was just given to him."
Reselling used clothing is a major source of revenue for Resala, which otherwise relies completely on donations for funding.
The Shubra branch of Resala also has classrooms dedicated to assisting the deaf, blind and those with physical handicaps. Services include translating texts into Braille and audio, and classes assisting in interpersonal communication. The branch also houses a library and a clinic.
The reasons the volunteers spent their Eid at Resala vary — for God, for people — but they are all united in their passion for making a difference in the lives of the members of their community.
"The people we help are thankful for what we do," said Halfy, "and we're thankful for their prayers. Eid is about sacrifice, and I'm sacrificing my time to for those who need it."