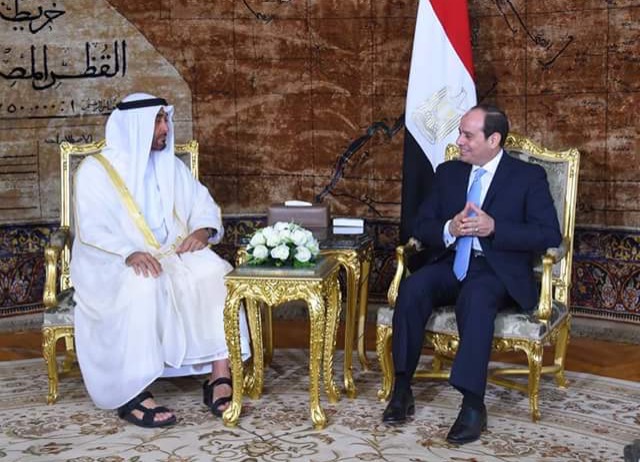 President Abdel Fattah al-Sisi held discussions on Tuesday with Abu Dhabi's Crown Prince Mohammed bin Zayed Al Nahyan regarding efforts to combat terrorism at all levels. The leaders agreed on the importance of a comprehensive confrontation of terrorism and radical thought, as well as the importance of concerted efforts by the international community against terrorism, and the promotion of joint-Arab action against terrorist organizations to prevent them from receiving arms, funds and new members.
Bin Zayed arrived in Cairo Tuesday for a two-day visit, accompanied by a number of senior UAE officials. He was received by Sisi upon his arrival at Cairo International Airport.
Bin Zayed emphasized the UAE's full support of Egypt in its fight against terrorism and extremism, praising Egypt's role as a major pillar of security and stability in the region.
The two officials reviewed the latest developments in the region and issues of common concern in light of rising challenges facing Arab countries, stressing their keenness to continue coordination and intensive consultation with other Arab nations to address the challenges and crises facing the Arab region.
They also stressed the need for coordination among Arab countries against interference in their internal affairs aiming to destabilize the region.
The two leaders also expressed their support of efforts pursuing political solutions to various crises in the region. They emphasized the priority of supporting the sovereignty of the nation-state on its territory and maintaining the unity and cohesion of its institutions as well as the interests of its people.
Spokesperson for the Egyptian Presidency Bassam Rady said that bin Zayed congratulated Sisi on winning a second presidential term in the 2018 Egyptian presidential election.